March 10, 2020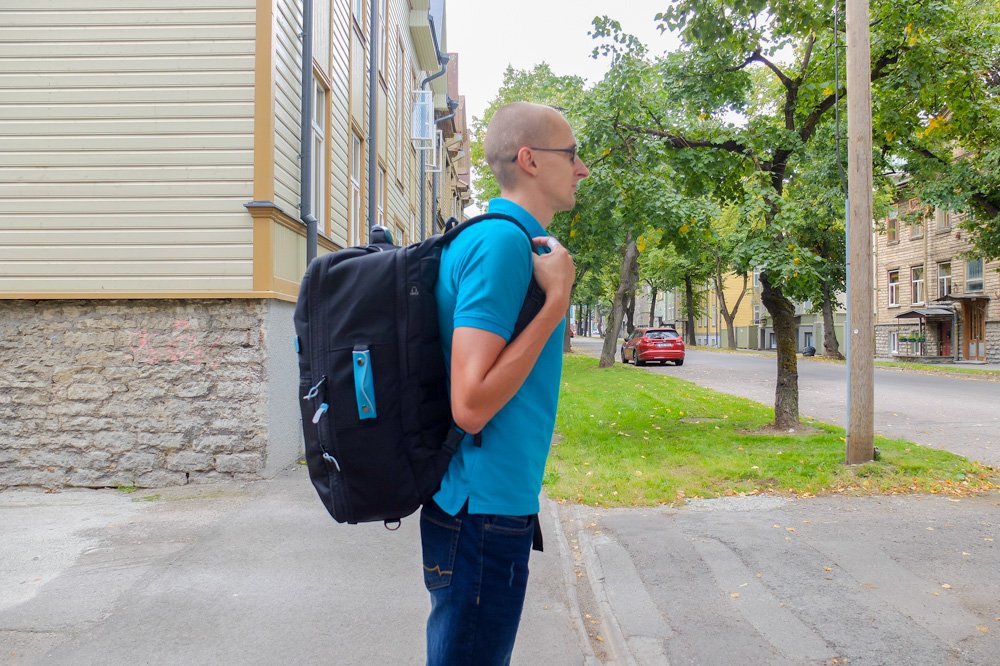 Do you know, what I thought when I saw the Standard's Carry-on Backpack for the first time? I thought that this backpack looks funny, and I didn't like it. For me it looked like a soft-sided suitcase you put on your back. Strange, huh? But now, some 6 months later, after having seen it in real life and also after having been on a trip with it, I must admit – Standard Luggage Carry-on Backpack is one of the most practical backpacks I've seen.
It doesn't look that strange after all. Just like a regular, medium-sized backpack. And I know I'll be using it again and again on my future trips. It's definitely not for all kind of trips and not for all types of travelers, but some, I'm sure, will love it.
Wanna learn more about this hybrid backpack + see more photos? Then scroll down and continue reading my Standard's Carry-on Backpack review.
Standard Carry-on Backpack Review
Standard Luggage Carry-on Backpack: Technical Details
Size: 35  liter (zipped), 45 liter (expanded).
Dimensions (zipped): 21.5" x 13.5" x 7.5" (54.6 x  34.3 x 19 cm).
Dimensions (expanded): 21.5" x 13.5" x 9.5" (54.6 x  34.3 x 24.1 cm).
Size of the laptop sleeve: holds most of 15″ laptops, including 15" Macbook Pro.
Made of: 1680 denier high tenacity ballistic nylon (water resistant).
Weight: 3.7 lbs (1.7 kg).
Colors: Black (blue and orange interchangeable leather accessories included).
Check out Standard's Carry On on Amazon!
7 Reasons to Love the Standard's Carry-on Backpack
1. The Backpack is Water Resistant and Easy to Clean
The backpack is made of high quality ballistic nylon (1680D). It's not a waterproof backpack, but light rain isn't going to be a problem for you and your belongings. If, however, you're planning to be outside in the rain for a longer while or it isn't just a light rain out there, you can always use the raincover that comes with the Standard's Carry-on Backpack.
All the outer surface of the backpack, except for the padded back, is made of the same material. Thanks to that and the backpack's shape, it's very easy to clean it. Just use a non-abrasive cloth and diluted mild detergent to wipe down dirt, and then rinse the backpack.
2. It's Expandable
Simply open the zipper, and you'll have not a 35 liter carry on backpack, but a 45 liter one.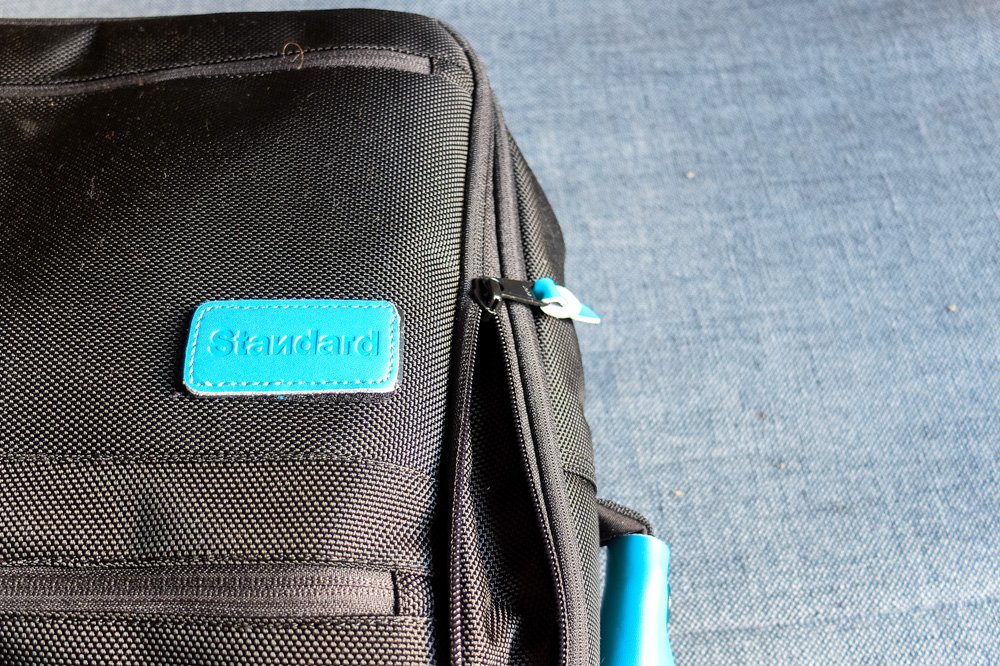 Which means that the same backpack can be both small and medium-sized.
But don't be fooled by "small", because it's not a small backpack. In fact, a week ago we went on a 5-day city trip, and we had only this one backpack between two of us. And we used it as a 35 liter backpack. Having more stuff, we could just open the zipper and make the extra space. What it actually means, this expanding, is that by opening this one zipper your backpack becomes wider. And you can easily fit it, let's say, 3-4 pairs of jeans.
What I don't really like about the expanding is that the backpack also becomes bulkier. And it looks less nice. Well, but that should be obvious. If you're bringing a lot of stuff with you, your bag is big, too.
3. The Standard's Carry-on Backpack is ROOMY
And since it opens like a suitcase, it's very easy to pack it, plus you can find that one thing without taking the rest of your stuff out of the bag. Gotta love that full-perimeter zipper. Even though, it may make you feel a bit lost at first. When you forget about it and can't find where is the zipper clip to open the main compartment. But it turns out to be somewhere under. Happened to me a few times. You open the zipper, but it's a laptop compartment. You try another one – it's again the laptop compartment.
There is one big main compartment, as you can see in the photo above. Behind it is a big, separate laptop compartment, with detachable laptop + tablet sleeve.
And then there are pockets. A lot of pockets. Scroll down to see most of them how much you can fit in this backpack with ease.
4. Pockets, Pockets, Pockets
The bag features a hidden water bottle / umbrella pocket. What a good idea!
The backpack features a special pocket where you can hide its shoulder straps. And a secret pocket in the main compartment, which I found by the accident.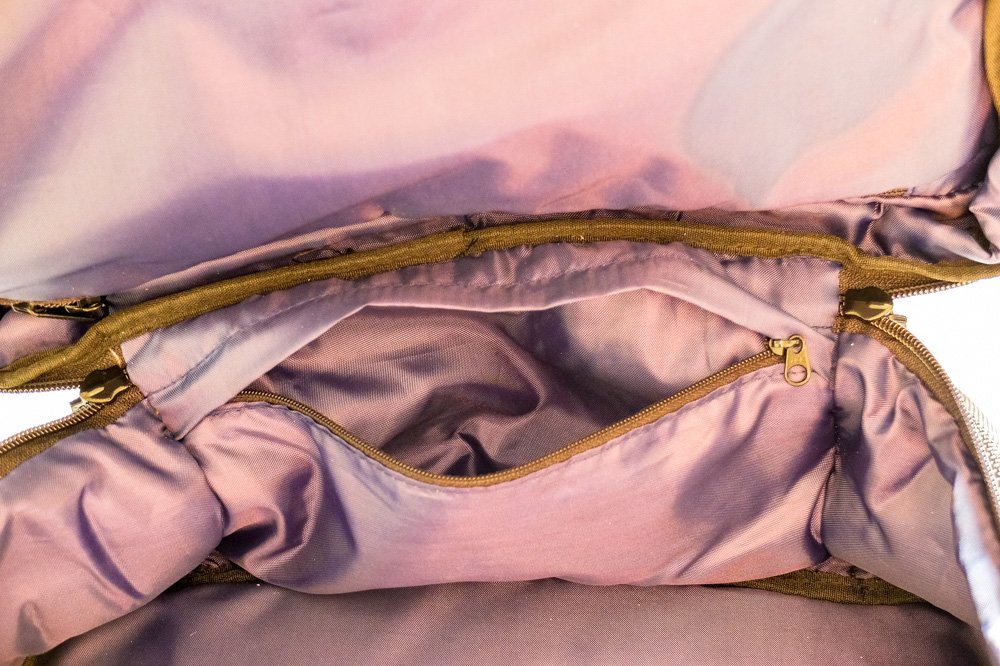 The best part about all these pockets that you can see yourself in the photos above is that all of them are big and spacious.
For example, the ones on the front of the backpack take up almost all the frontal panel of the backpack. Which is very clever. Why wouldn't they, if there is enough space. As a result you can organize your belongings very, very well. And when you need to find something specific, you just need to look in the right pocket.
5. Removable Laptop Sleeve
At first you think, ok, here it is. A nice, big and soft laptop + tablet sleeve. But what's the point if I can only partly take it out? The thing is – you can take it out fully. Here is how it looks from behind.
It's a detachable laptop sleeve. Which is another thing I really like about this backpack. Because it means you don't have to take out your laptop when you're going through airport security. You can take out the sleeve with laptop and for example tablet (if you have one) in it.
6. It's a Hybrid Backpack
Use it as a carry on backpack, suitcase or shoulder bag. In a minute you can transform it from a backpack into a shoulder bag and vice versa. It's extremely simple and straight forward. Finding the zipper clip to open the main compartment can sometimes be harder.
The backpack comes with a very good quality detachable shoulder strap and an OK removable hip belt. If you aren't going to walk too much carrying it around like a shoulder bag can be even more comfortable than carrying it like a backpack.
And this is how you can detach and attach backpack straps. It takes only seconds.
Blue or Orange? You don't have to choose. You are getting both. As 2 sets of interchangeable leather accessories are included.
7. FREE Worldwide Shipping + Lifetime Warranty
If you are from outside the USA, go to the website of Standard Luggage to order this backpack!
Standard offers FREE worldwide shipping. Unless you are from the USA or Canada, shipping takes 4 – 10 business days + 1 day for order processing. If you are ready to pay a bit extra (around 30 USD, if you are from Latvia), choose expedited shipping. Then you'll receive the bag in 3-6 business days, and it will be delivered to you by a courier.
Check out Standard's Carry On on Amazon!
Standard Luggage Carry-on Backpack: Bottom Line
It's very easy. If you're a frequent traveler (then you need a quality luggage), you want a backpack, not a suitcase, and you're spending most of your time in cities – try the Standard Luggage Carry-on Backpack. I would definitely recommend you to consider it when looking for a new travel backpack. Because it's just a very good backpack.
Yes, it's not a cheap backpack. It costs around 180 USD, but it also feels like a backpack that costs around 200 USD.
It's a quality backpack. It's sturdy, well-built and keeps its shape even when it's completely empty.
Are you still thinking is it worth it traveling with carry on only? Is it even doable if you are traveling for more than a few days? From my own experience, traveling with carry on luggage only for most of the time since 2012, I can tell you one thing – do it. At least give it a try on a shorter trip, if you have doubts. And then you'll see it yourself it it's something for you or no. But for more and more people around the world that's the only way they travel now. Because of how liberating it is.
Cons:
When it's full, it looks bulky, if carried like a backpack. Especially on a petite person.
It's not the best bag to be carried around for more than an hour (if it's full). Yes, the back and handles are very soft and comfortable. But still you feel like carrying a small suitcase on your back. Unlike hiking and travel backpacks like the Osprey Farpoint, it doesn't really fit the same as nice on your back. Not matter how I tried to adjust it.
This post originally appeared on Kaspars's blog We Are From Latvia.
Text: Kaspars Misins.
Disclosure: Although the backpack was provided by Standard Luggage, my opinions shared are my own.
Junyuan Bags
Ten articles before and after
BfB Laptop Tote Jennifer Review: Designer Work Tote – Junyuan Bags
10 Best Wallets for Women in 2020: Reviews + Tips – Junyuan Bags
Best Backpack Rain Covers 2020: Reviews – Junyuan Bags
NeatPack Crossbody Bag Review: A Practical Bag – Junyuan Bags
Osprey Aura AG 65 Review: Me, My Osprey and the Winter – Junyuan Bags
10 Best Luggage Locks (TSA Approved) – Junyuan Bags
Best Travel Bottles: 10 Best Travel Toiletry Bottle Sets – Junyuan Bags
Junyuan Bags – Page 2 of 6 – Luggage Reviews. Travel Accessories. Packing Tips
Best Luggage Tags 2020: 20 Practical Luggage Tags – Junyuan Bags
Best Travel Shoe Bags 2020: Reviews & Comparison – Junyuan Bags