April 14, 2020
Wanna learn more about this women's-specific hiking backpack? Then you have found yourself in the right place. Because here I'm going to share with you my Osprey Aura AG 65 review (see the men's version on Amazon)! But let's start from the beginning! I believe, that the right things come in the right time. For 10 years of my active travel life I have carried around a super uncomfortable and cheap 50-liter backpack, that I bought in the local supermarket for about 15 Lats (around 20 EUR).
And that's fair, when you are young and carry a lot, but don't care that much.
This backpack accompanied me on my first travels and has been with me even on a 6-months long trip around South East Asia. But every bag has its end. I found a respectful place for this experienced bag in my room (and in my heart), but it's time to open myself for a new relationship with a new backpack. I have been waiting long enough.
We are not getting any younger (tell it to my back!). Nowadays I'm trying to get for myself not the things, what I can afford, but what my body can afford to carry. So I had an opportunity to get myself this awesome Osprey Aura AG 65 liter backpack. And I took the opportunity. Probably I hurried a bit ahead by saying, that this bag is truly amazing. But it really is. However we are still in the dating and getting to know each other phase. And with every step I discover something new what this backpack can offer.
Let's go into the details now!
Osprey Aura AG 65 Review
1. This Backpack is really SPACIOUS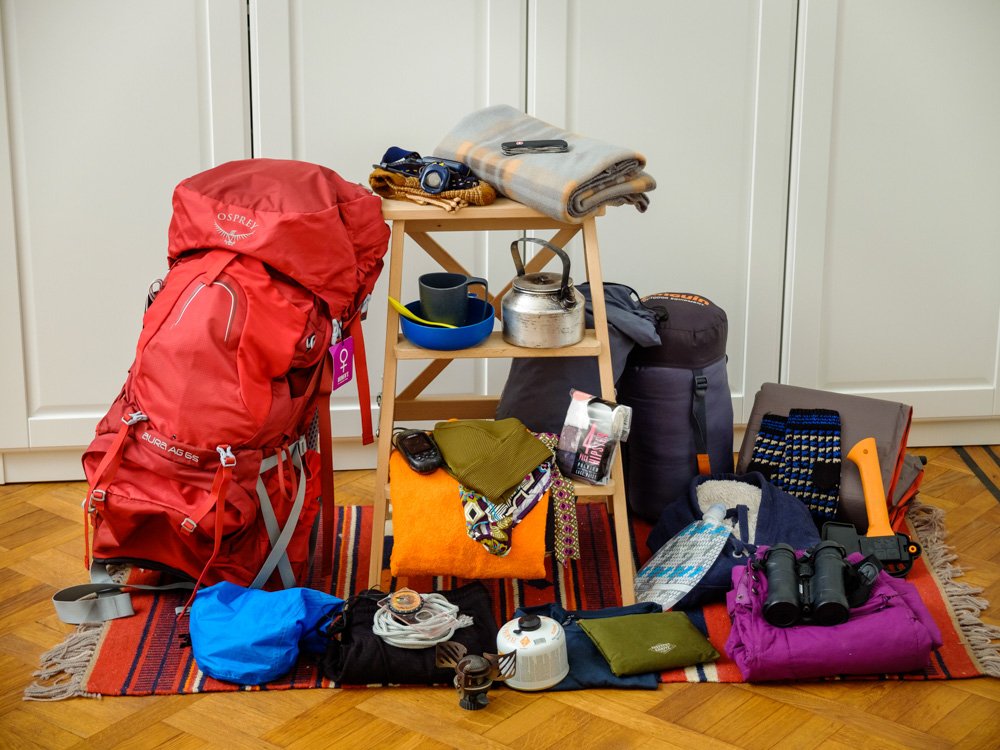 To have a proper test, I decided to take the Osprey Aura AG on our annual winter hiking trip around Gaizins – Latvia's highest peak. The hike lasts for 2 days with an overnight stay in a tent on the first night, followed by another day of hiking and an overnight stay in a cozy guest house with sauna (ohhh, yeah!).
Therefore this was promised to be the coldest weekend of the winter, I had to pack quite a lot of stuff with me. Apparently I had picked the right size of the backpack – 65 litres. But still I have to say, that this backpack is really enormous. Although I noticed it only, when I started to discover all its fittings, pockets, secret compartments and anchorages.
Nevertheless, there was more than enough space for all these double sleeping bags, winter clothing, camping gear, food and water, and rest of the stuff.
Already when packing the bag I noticed a few funny elements, like an emergency whistle in the chest belt, a separate sleeping bag compartment at the bottom of the bag, comfy pockets in the belt (for that extra chocolate bar!), surprisingly spacious head compartment, which, as it turns out, is removable, and a secret inner pocket for laptop.
I didn't use all of these features, as this backpack is huge anyway.
But in case of necessity they are there and then there are also another bunch of outside stretchable pockets and belts to attach an extra water bottle, tent, axe and, for example, boots.
2. Osprey Aura AG 65 Anti-Gravity System, I'm Loving It
When I first lifted my stuffed backpack, it felt like it weights a ton.
But I knew, that the Osprey Aura AG has so called AntiGravity™ suspension system. So what does that mean?
Basically, when I placed the bag on my back and fixed it around my waist and chest, the pressure balanced out the weight of the bag so perfectly, that my 25-pound (12 kilo) backpack felt practically weightless.
The hike I took it on wasn't easy. We always mix walking on the roads with some "off-roading" through the forest and across the fields, which can be also very challenging. After about an hour I started to feel the pressure on my hips, so I had to open the hip belt, but even then I could hardly feel the pressure on the shoulders.
If the backpack is placed and fixed correctly, you shouldn't feel any specific pressure neither on your shoulders, nor on your hips.
NB! Don't expect that you won't feel anything at all times. The bag is perfectly designed to make your trip as easy as possible, but 25 pounds, well, are still 25 pounds. Especially after some 20 miles of walking through the snow in the woods, when it's freezing cold outside. Carrying the bag was really easy, however I felt the gravity of my own body after I took the bag off.
I felt heavy like a stone and the night's sleep was tighter than at home. Even in the tent. Even when it was 68 F outside (-20 C).
3. Double Frame System
This Osprey backpack has a genius double framing system, something I haven't seen in any other backpack before.
The inner frame goes around the back, but the other frame carries the bag. Both frames function kind of separated, meanwhile complementing each other. The system assures, that you can easily adjust, how to fix the backpack in the most comfortable position for your back without touching the back frame.
I didn't notice it at first. So since the backpack is so high, I could barely move and lift my head. Only, when I was already feeling the first pain in my spine due to this inconvenience I noticed, that I can actually release the belts to tilt the bag in a more comfortable for me position to be able to see the sky! I immediately felt so relieved.
4. Solid Back Support System
This backpack really loves close relationship.
When I think of it, wearing this backpack may feel like wearing a metal corset. Due to the hard and sturdy belt the backpack sits around the waist tight like a jealous boyfriend. So it was a bit difficult to move the upper part of my body. If you happen to fall down in the snow, most likely you will have to remove the backpack first, because getting up with this bag and without help is nearly impossible.
Also hiking up a steep hill can be a bit challenging, because the bag keeps you in one position making you less flexible.
But this feature can be quite a life-safer in other times. Because at the same time the bag protects and supports your back like a trustworthy wall.
5. Aura AG Ventilation System Rocks
During a trip like this, when it's freezing cold outside, it's essential to "sweat smart".
Usually there are 2 reasons for sweating: physical activity itself and that heavy backpack you are carrying on your back. The latter, as it turned out, isn't a problem with the Osprey Aura AG.
Another technology I have never seen in any other backpack, not even in older Osprey backpacks, is its unique ventilation system. The bag has a 3D cavity back panel, which creates a small space between the bag and the back, and as the result you sweat less. During the trip there was only one time when I felt the need to take off a layer of clothing, while my travel buddies were taking off layers of clothing twice a day.
Older Osprey backpacks have a ventilation system similar to this one, but it works only for the back. Which means, your back is ventilated very well, but you still keep sweating around the hips.
With the Osprey Aura AG this system has been taken to perfection – as the ventilation system covers the entire frame, including the Fit-on-the-Fly™ hip belt. (I always felt funny to tighten it up, because its pull system made me feel like a pilot, haha!)
6. This Bag Is Weather-Resistant
I had the Osprey rain cover with me, but there was no need for it.
The 100D x 630D Nylon Dobby material this backpack is made of assures to keep the bag dry in fairly wet weather conditions. I used to pack all my essentials in one, sometimes even two plastic bags (yeah, I don't use packing cubes), just to make sure, they will stay dry in my backpack, when it was rainy.
Now I guess, it is time to say goodbye to the era of plastic bags. (My inner eco-terrorist goddess is singing a hymn to Osprey now, ha!).
Osprey Aura AG 65: Bottom Line
I said it a couple of times – older Osprey models, didn't I?
Well, there were 10 hikers, 4 of whom had Osprey backpacks. So it was a great opportunity to discuss the features of this bag and my hiking buddies could just nod the heads and agree: hands down, it's the best travel and hiking backpack and surely the best investment in travel gear we can imagine.
Because it really looks and feels like Osprey designers and technologists have considered every, I mean it – every single detail from the antigravity system till the last zipper of that small pocket where you are going to put your candies to make this bag as comfortable, capacious and hiking-friendly as possible.
Cons:
Consider the fact, that the bag makes your back a bit immobile. The back plus hip ventilation system makes the hip belt very sturdy, that curves inwards naturally, so you must find out the best way, how to "get in the bag". The backpack is designed so to make the Anti-Gravity system possible, but it can also cause some back pain, if you are not able to tilt and move your back whenever needed.
Think about it twice, if you really need a bag this big. Because 65 liter is really a lot. But then again – you can remove the head compartment, when you don't need it.
Best dating buddies for this backpack: long term travelers planning to do some short and rather flat hikes, semi-professional hikers, adventurous travelers, nature lovers.
Buy the Osprey Aura AG 65
Buy the Osprey Aura AG 65 on Amazon!
Or visit the Osprey official store.
---
If you don't need a backpack this big, check out the Osprey Aura AG 50 on Amazon!
P.S: If you are interested in our nature adventures, feel free to join us! Check out our Facebook page – "Pie Dabas" to learn more about our adventures!
Photo credits: Oskars Rozenbergs.
Disclosure: Although the Osprey Aura AG 65 was sponsored by Osprey Europe, my opinions shared are my own.
Junyuan Bags
Ten articles before and after
Tortuga Setout Review: The Perfect Carry On Backpack – Junyuan Bags
Best Suitcase Covers 2020: Reviews – Junyuan Bags
Junyuan Bags – Luggage Reviews. Travel Accessories. Packing Tips
Best Travel Cable Organizer: Cable and Wire Organizer Reviews – Junyuan Bags
Finding the Best EDC Backpack in 2020 – Junyuan Bags
NeatPack Crossbody Bag Review: A Practical Bag – Junyuan Bags
Best Backpack Rain Covers 2020: Reviews – Junyuan Bags
10 Best Wallets for Women in 2020: Reviews + Tips – Junyuan Bags
BfB Laptop Tote Jennifer Review: Designer Work Tote – Junyuan Bags
Standard's Carry-on Backpack: Review & Photos – Junyuan Bags