March 4, 2020
This backpack is very cool. From the moment I watched the video (I'll link it further below), I was hooked. I really liked what I saw and was eager to try the Standard's Daily backpack myself. It looked like the perfect backpack for commuting, great laptop backpack and camera bag – all in one. What else I was thinking about right away after seeing the video is – if there's enough space for one average-sized packing cube, I may even use it as a travel backpack. I'm often traveling very light after all.
I wished it might be true. Because I was in search of a small carry on backpack, something smaller than my Osprey Farpoint (my main backpack for the last 2 years). Something I could use as a carry on without paying anything extra also with Europe's low costers, like Wizzair and Ryanair.
And it turned out to be true. Is Standard Luggage Daily the best everyday backpack? For me it is. And I'm sure that I'm not the only one.
Let's go into the details now!
Standard's Daily Backpack Review
Standard Luggage Daily Backpack: Technical Details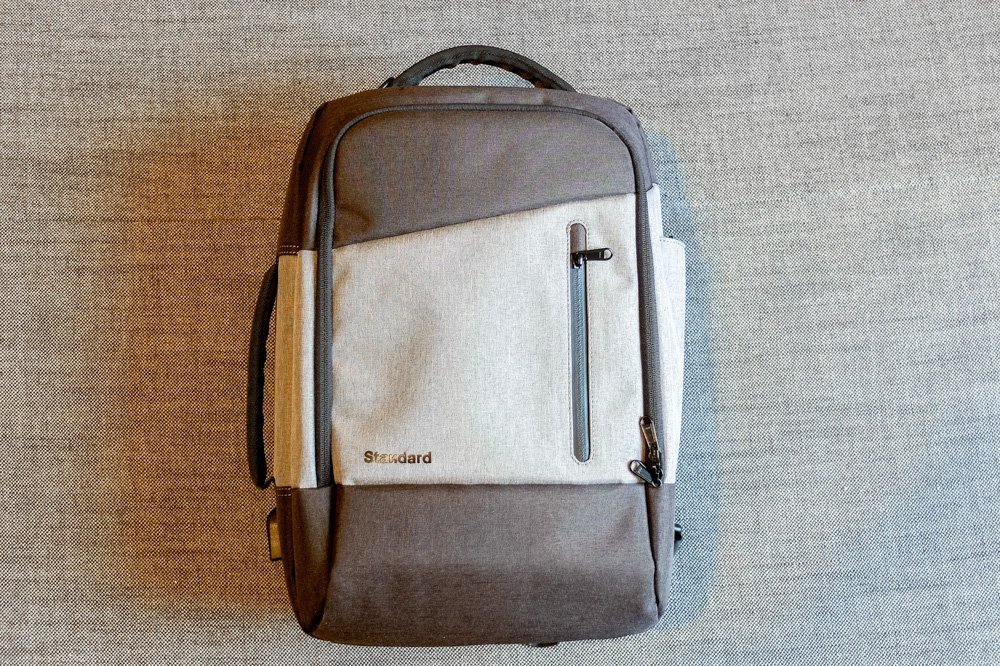 Size: 18 liter.
Dimensions: 17.7" x 11" x 5.9" (45 x 28 x 15 cm).
Size of the laptop sleeve: holds most of 15″ laptops, including 15" Macbook Pro.
Made of: 310D polyurethane sealed nylon (water resistant). Interior – 210D nylon lining.
Weight: 2.2 lbs (1 kg).
Color: Gray + light gray.
Buy the Standard Daily backpack on Amazon or on Standard official website.
7 Reasons Why It's the Best Everyday Backpack
1. Standard Luggage Daily Backpack Looks Classy
You can go to work with it or to university.
You can go traveling with it.
If you're traveling with checked luggage and just need a small carry on backpack, the Daily might just be the right bag. It's small, yet there is space for your essentials, which is why I like it so much and why for me it's the best everyday backpack. There is enough space for your electronics. Camera. Cables and chargers. Documents. And a change of clothes you might want to pack in your carry on. In case your luggage arrives later than you.
2. The Backpack is Water Resistant and Easy to Clean
The Daily backpack is made of 310D polyurethane sealed nylon which is durable, water resistant and easy to clean. The interior of the backpack is made of 210D nylon.
Yes, the Daily backpack is water resistant but it's not completely waterproof. This means that your belongings will stay dry during a drizzle but you'll need to cover the backpack with a rain cover during a heavy downpour. Use the rain cover that comes with the bag.
Thanks to the smooth material and the shape of the backpack, it's very easy to clean. Just use a non-abrasive cloth and diluted mild detergent to wipe down dirt, and then rinse the backpack.
3. The Daily Backpack Has Plenty of Pockets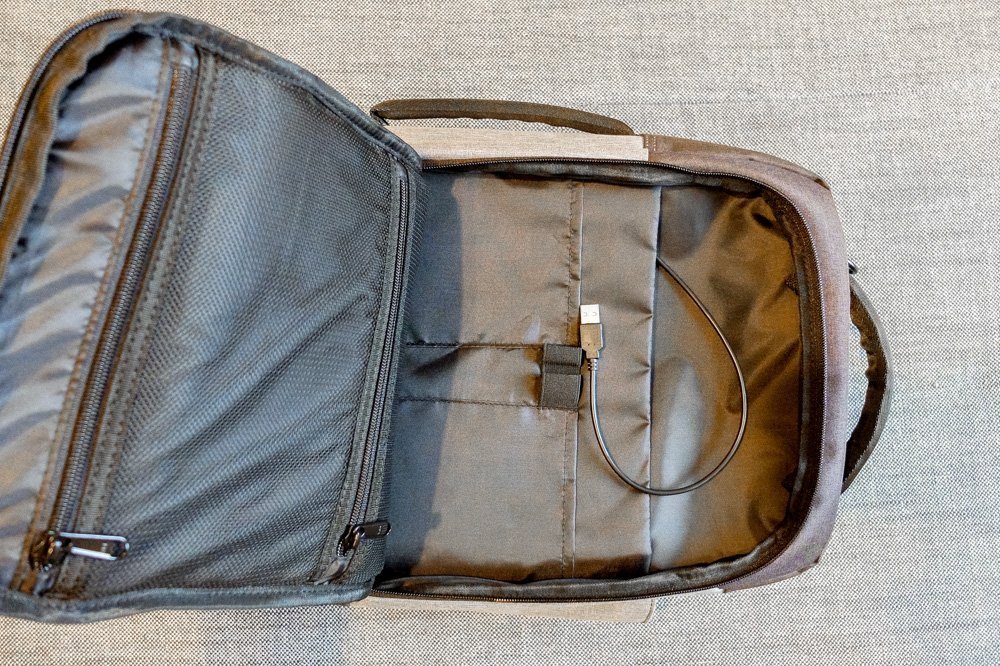 Same like the Standard Luggag Carry On Backpack this bag has a lot of pockets.
To be exact – there are 12 pockets, 2 compartments and laptop + tablet sleeve.
Something I haven't mentioned just yet, there is also an integrated USB port for charging your devices on-the-go. Power bank isn't included. In the photo above you can see a USB cable. This is where you connect your power bank. There is a large pocket big enough for a high capacity power bank and some other things. If the backpack is empty it might be hard to plug in the cable.
Let's take a look at the pockets and compartments!
One secret pocket on the top of the backpack.
And one on the bottom. The bottom one can be used for the rain cover.
There is a collapsible water bottle pocket on the side. Awesome idea.
You don't need it? Just close the zipper.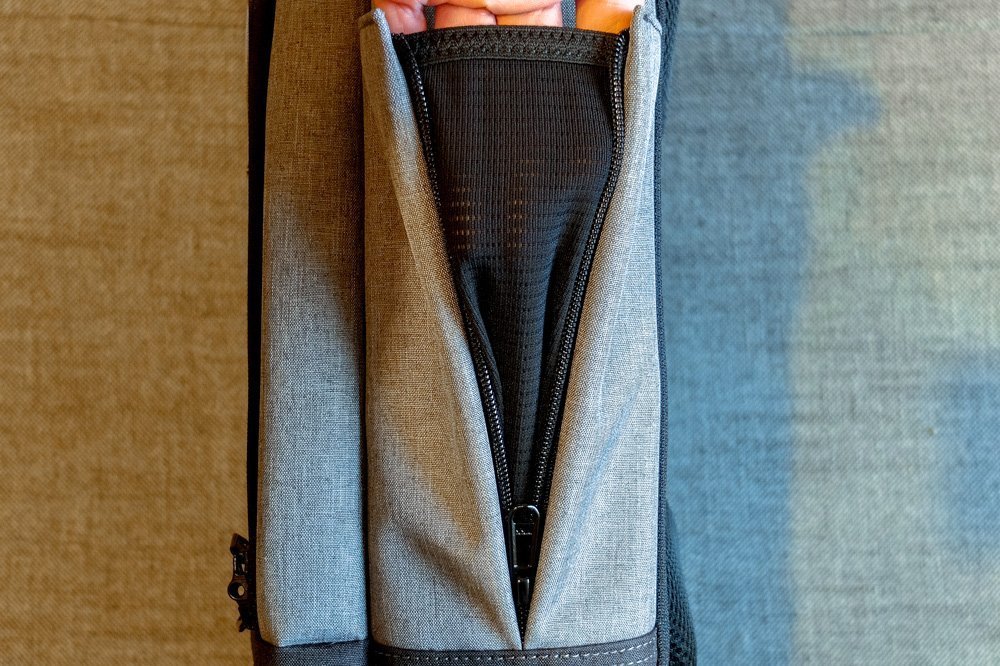 Here is the main compartment with 2 pockets for DSLR and lens; can be used for anything else.
Plus another one mesh pocket.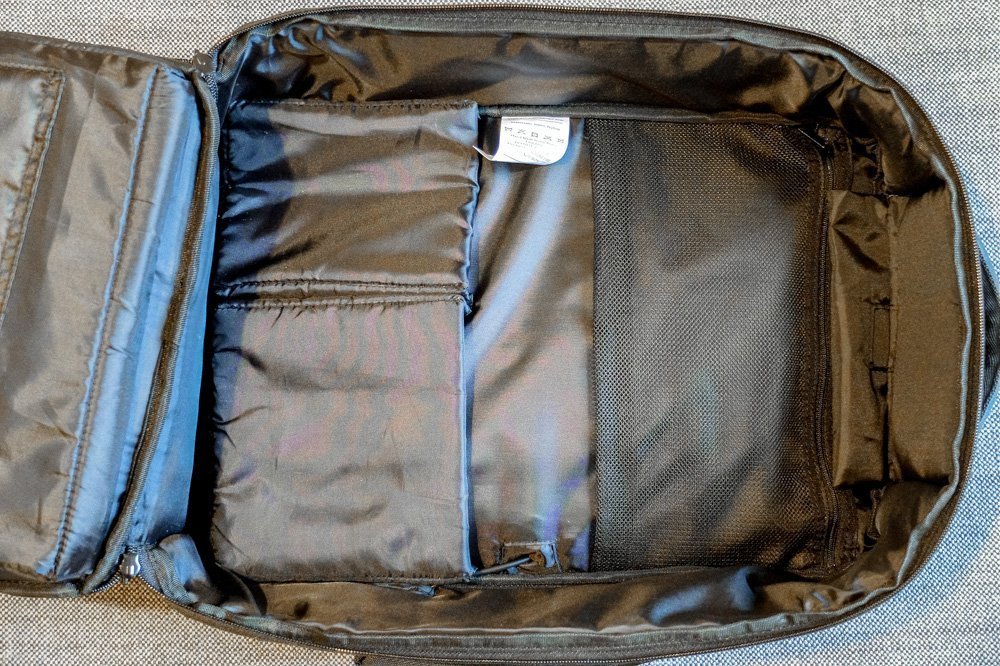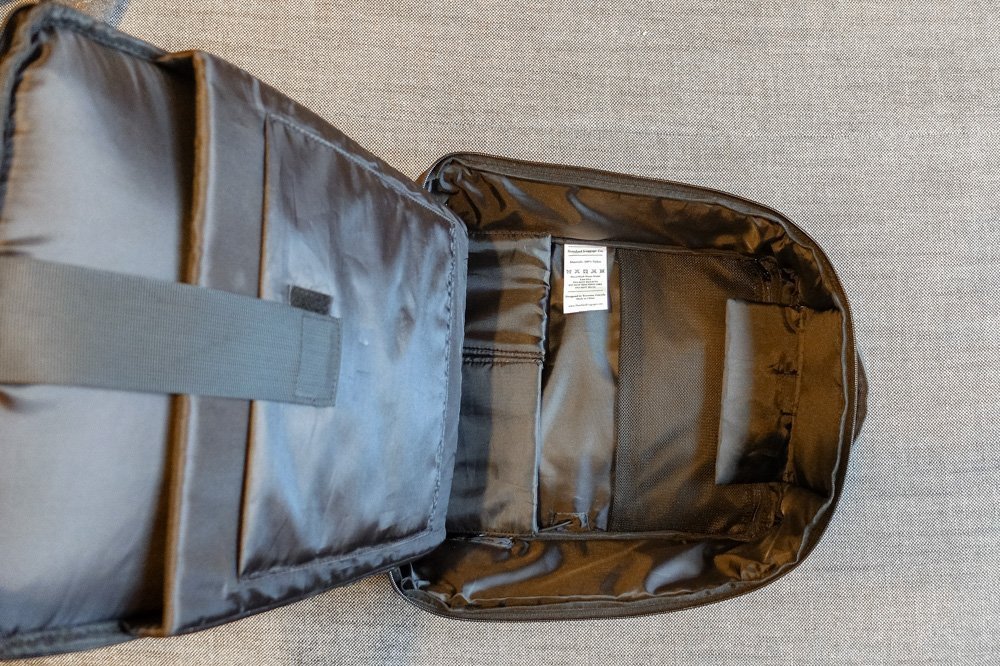 4. It's a Secure Backpack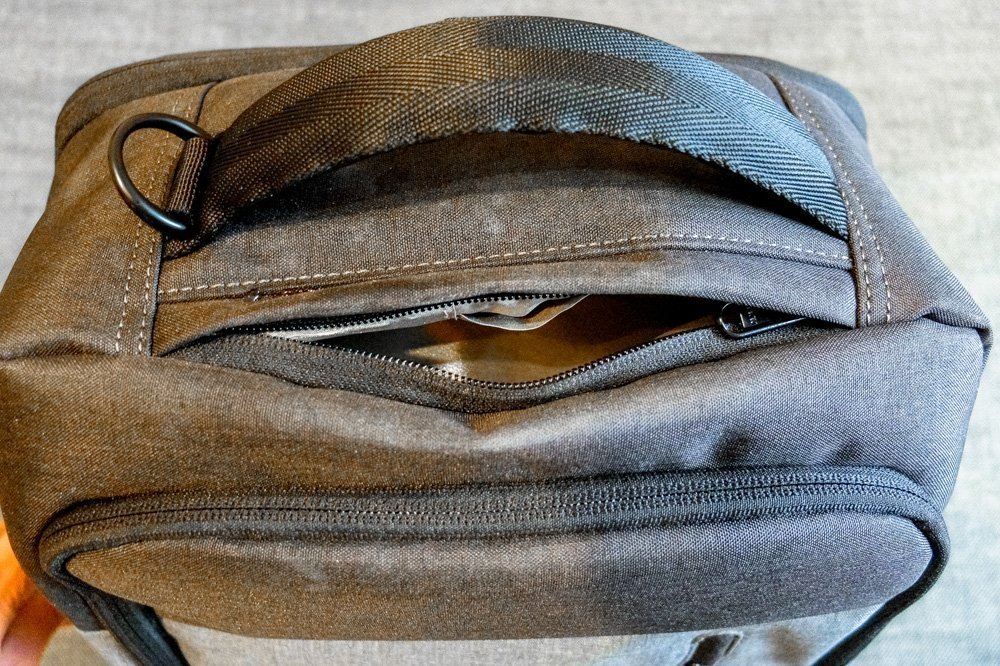 It features 2 secret pockets.
Plus it's main compartment's zipper is well hidden, keeping most of your stuff safe all the time.
And it's also made of very sturdy material. It feels like a quality bag. Not like a cheap backpack.
5. It's a Hybrid Backpack
Use it as a backpack, briefcase or a messenger bag.
Transformation happens in less than a minute.
Here you have a regular backpack.
And now… the straps are gone.
Grab the side handle and you're ready to go.
Or attach the included quality shoulder strap to use your Standard Daily as a messenger bag.
6. It's Small, But It's Not Tiny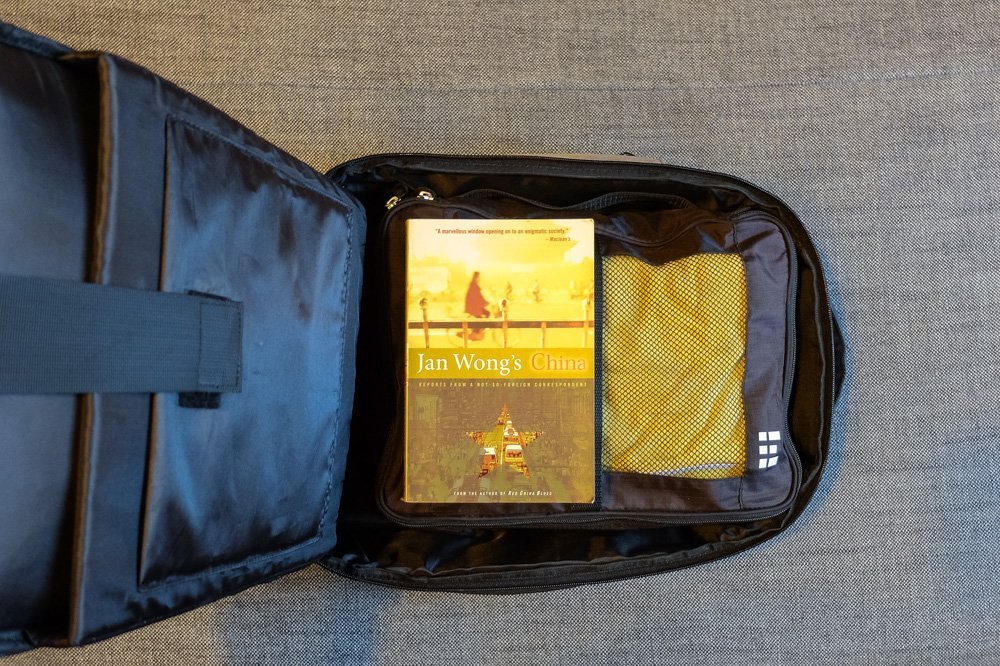 If you're used to travel very light (like I am) or you would like to give it a try, this is the backpack to try.
As you can see from the photo above it easily fits an average-sized packing cube. There is enough space for my laptop and tablet. There is enough space for the chargers, water bottle, some toiletries and other essentials. Oh, and it opens like a suitcase, which is a huge plus and yet another reason why I call it the best everyday backpack.
7. FREE Worldwide Shipping + Lifetime Warranty
To order this backpack, go to the website of Standard Luggage!
Standard offers FREE worldwide shipping. Unless you are from the USA or Canada, shipping takes 4 – 10 business days + 1 day for order processing. If you are ready to pay a bit extra (around 30 USD, if you are from Latvia), choose expedited shipping. Then you'll receive the bag in 3-6 business days, and it will be delivered to you by a courier.
If you are from the USA or Canada, you'll be able to receive it even faster.
Osprey Farpoint 40 vs Standard Carry-on vs Standard Daily
I will not be going into details here. To learn more about the other two backpacks you can check out our reviews here – Osprey Farpoint 40/Osprey Fairview 40, Standard Carry-on Backpack.
What I want to highlight are the main differences between these 3 quality backpacks I've used lately.
The Osprey is one I would go with if I know I'll be walking around a lot. It's a roomy travel backpack and it feels very comfortable on your body. I've done a 2-week hike with it, and it didn't disappoint me.
The Standard Carry-on is my go-to backpack if I have a lot of stuff and I know that there will not bee too much of walking around with my luggage with me. The backpack is roomy and it's very easy to stay organized with it, but it also feels bulky on my back when it's full.
The Daily is small and pretty backpack. If you need a small, high quality backpack. Think of the Daily.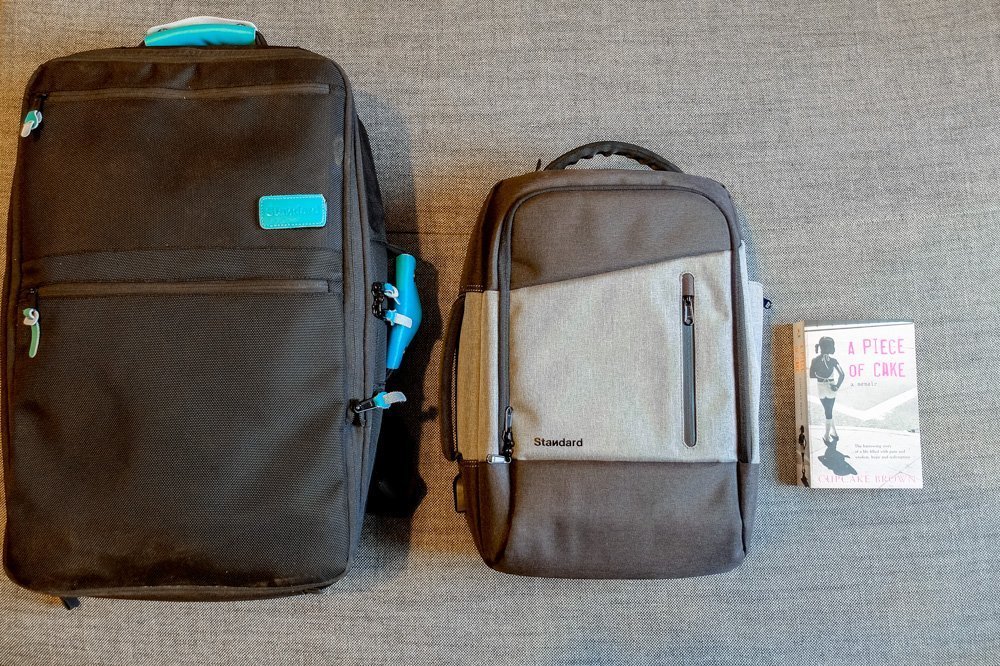 This post originally appeared on Kaspars's blog We Are From Latvia.
Text: Kaspars Misins.
Disclosure: Although the backpack was provided by Standard Luggage, my opinions shared are my own.
Junyuan Bags
Ten articles before and after
Best Packing Cubes 2019: Best Packing Cube Sets – Junyuan Bags
Best Travel Backpack With Wheels 2020: Latest Reviews – Junyuan Bags
15 Best Duffel Bags for Travel 2019 (Reviews) – Junyuan Bags
Junyuan Bags – Page 3 of 6 – Luggage Reviews. Travel Accessories. Packing Tips
WATERFLY Packable Daypack Review – Junyuan Bags
Best Passport Holders: 8 Best Passport Covers – Junyuan Bags
Best Travel Money Belt: 10 Best Anti-Theft Money Belts -Junyuan Bags
Best Carry On Suitcase 2019: Best Carry On Luggage – Junyuan Bags
Best Underseat Carry on Bags: Best Underseat Luggage – Junyuan Bags
Best Luggage Sets in 2019: Buying Guide – Junyuan Bags