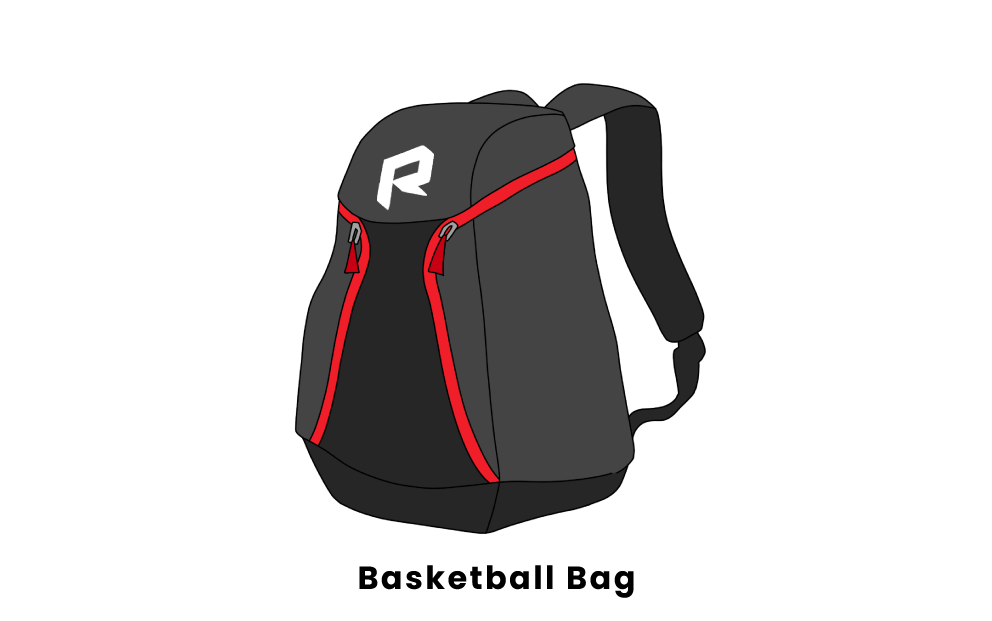 Basketball backpacks should be able to hold the basketball, shoes, gear, and clothing while also keeping them separate. When inappropriately designed, they can be a constant source of distress because while they are simple objectives, so much can go wrong and add to your daily chores. For example, the sweaty outfit can leave a smell in fresh clothing, the dirty ball compartment can stain the accessories, or you may have to carry a few items separately because there is no space left in the bag. Lastly, your backpack should look sporty and distinctive enough to attract compliments from your peers.
Here we have selected some good designs of basketball backpacks, basketball ball bags, basketball bags, basketball gym bags, and basketball duffle bags for you to choose from.
Various Designs of Basketball Backpack&Basketball Ball Bag
Keep Perfect Custom High Quality Material Basketball Backpack Soccer Bag Baseball BagVolleyball Backpack
The basketball backpack is a really big bag with a total capacity of 40 liters, which is actually equivalent to the capacity of most carry-on suitcases! If you want a bag that can hold enough stuff for a weekend getaway and a basketball, this is the best backpack for you!
The ball compartment is on the bottom front of the bag, and it features a mesh panel for great ventilation. The exact dimensions of this compartment are 9″ x 8.7″ x 9.4″, so it should be easy to figure out if it's large enough for your needs.
The backpack also has a top-loading main compartment and an additional zippered pocket on the front panel. There are also two stretchy pockets on the sides, which are roomy to hold large water bottles. And the bag also has compression straps above the side pockets, so you could technically use those to store much bulkier items.
This bag also has several attachment points on the front and sides, which is quite convenient. The main compartment also boasts a padded laptop pocket and a tablet sleeve, and there's even a dedicated pocket lined with velvet for your smartphone.
On top of all that, it's also important to note that the back panel is heavily padded and covered with breathable mesh. The harness is also ventilated for premium carrying comfort, and there's even a sternum strap to ensure those shoulder straps stay put.
Overall, if you want a great large-capacity backpack that happens to have dedicated storage for basketballs, this is one of the best options out there.
Keep Perfect Travel Backpack Carry On Bag Custom Logo Volleyball Soccer Basketball Gym Bag Basketball Duffle Bag with Shoe Compartment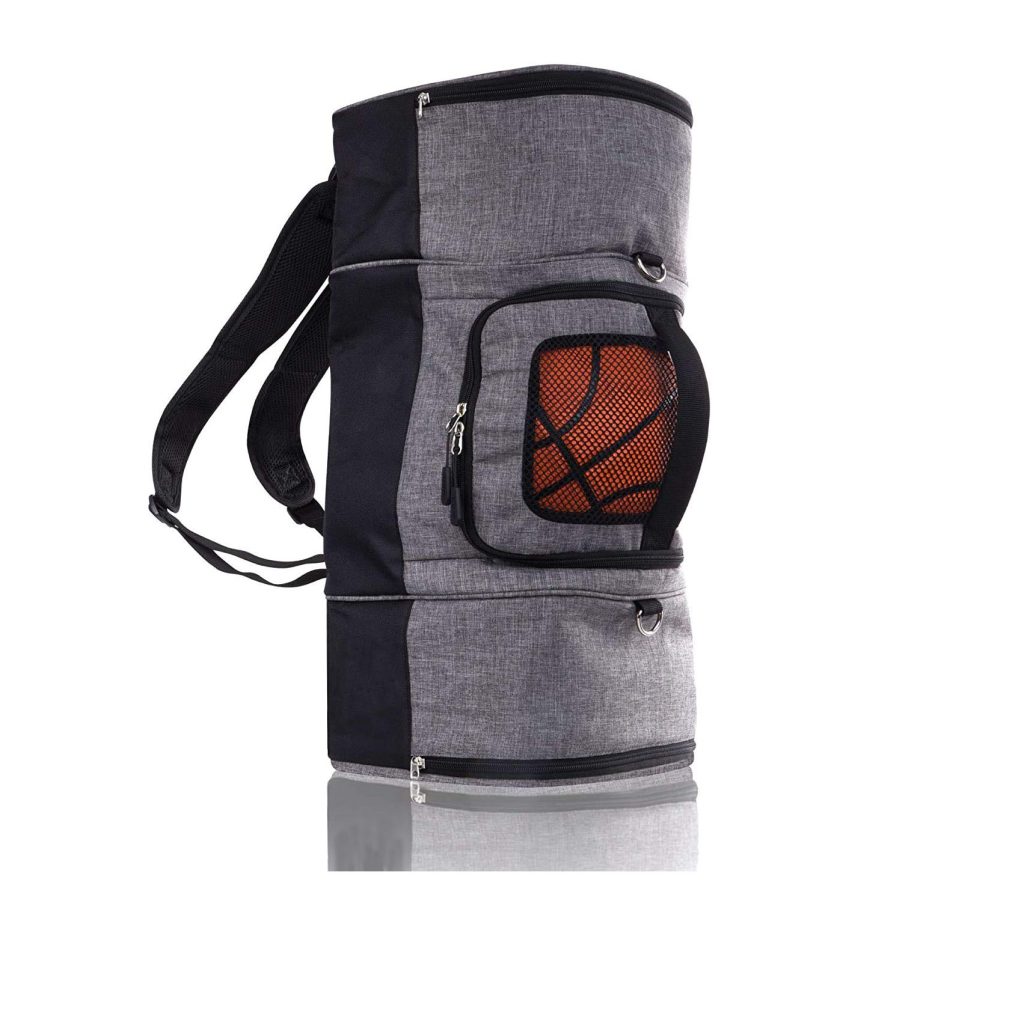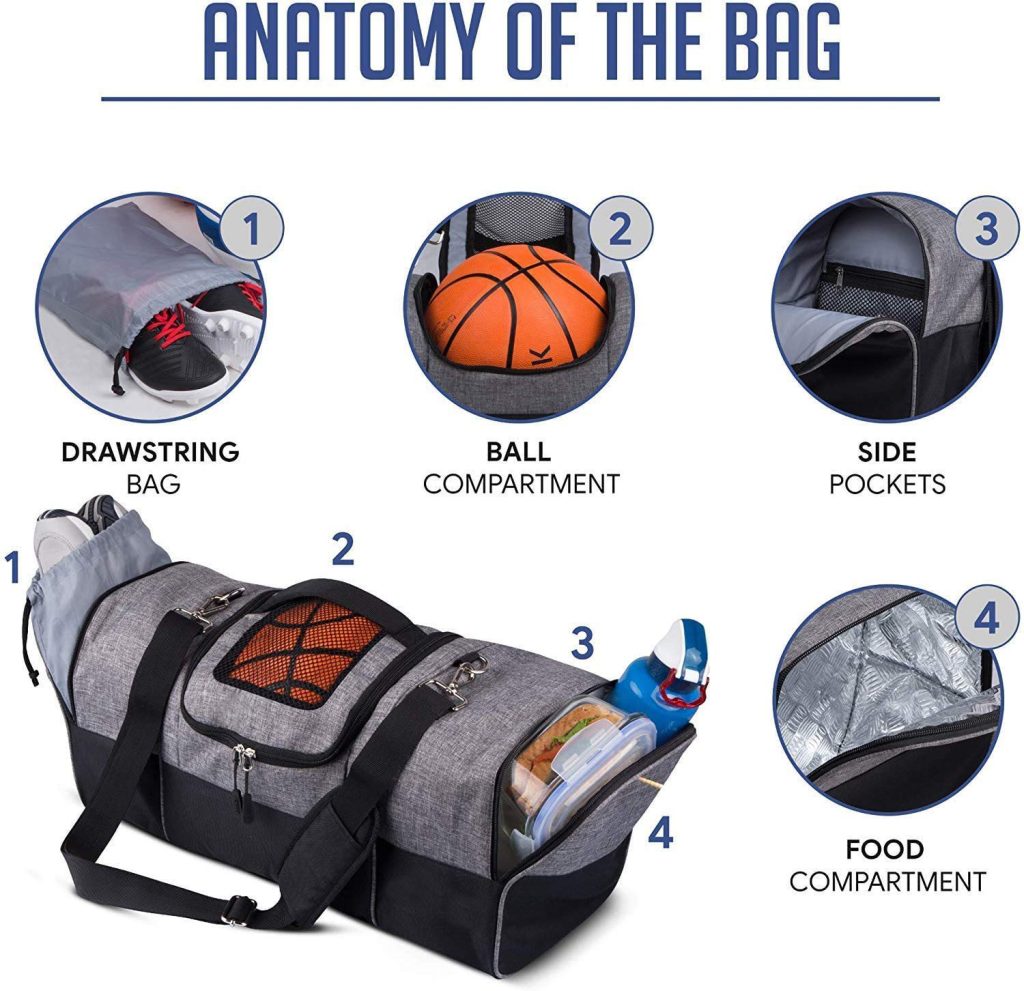 If you prefer both the duffle bag style and backpack style, then you have found the right basketball bag here. This bag is designed with a duffle bag and a backpack in one. It can offer you flexible carrying options, either a basketball duffle bag or a basketball ball backpack. Attachable and adjustable straps can be fitted to create a comfortable carrying experience for both adults and children.
Besides that, the basketball bag with a ball holder pouch can comfortably store a variety of sports balls, such as regulation-sized soccer balls, basketballs, and volleyballs. Children-sized soccer balls and footballs can also be stored. There is also a separate compartment designed just for holding cleats or tennis shoes that keeps dirt and turf out of the rest of your bag. The insulated food storage compartment keeps snacks and drinks cold while you sweat.
It is suitable for both adults and kids, this soccer bag is perfect for boys and girls as well as adults. The bag can be adjusted to comfortably fit both adults and children and is versatile for a variety of sports.
Keep Perfect Custom Logo Travel Rolltop Backpack Gym Sport Football Basketball Backpack
This fashionable basketball backpack is more suitable for those who are pursuing fashion style. It features a modern fashion design and high-quality material. It can come in a variety of colors and sizes. On the bottom of this basketball backpack, it is a basketball holder with a nice orange zipper. It can hold a basketball, also suitable for a soccer ball, football, volleyball, etc. Besides the basketball holder, you will find a large compartment that has enough storage to carry all your sports equipment.
In addition to being really useful and incredibly well built, this backpack looks nice and it can be used for travel and other daily needs. 
Frequently Asked Questions
What backpacks do NBA players use?
So, now when you know what to look for, let's find a couple of backpacks and see how they answer to these requirements.
Nike Hoops Elite Max Air Team 2.0. …
Under Armour Storm Undeniable II. …
Under Armour UA Striker II. …
Wilson Evolution Basketball Backpack. …
Nike Hoops Elite Max Air Team 1.0.
What do you put in your basketball bag?
Basketball Survival Bag Essentials
BASKETBALL SHOES (don't put those shoes on at home…they need to stay clean for the court! …
court grip (my kids LOVE this…so they don't slide around on the court)
instant cold pack.
extra mouth guards.
first aid kit/ibuprofen.
tissues.
wet wipes.
How do you look good in basketball?
Wear loose-fitting clothes.

At the same time, avoid tight clothing that constricts movement. Wear clothes that allow you a free range of motion. In ideal weather or indoors, wear the following: Shorts that fit your waist perfectly and hang loosely to your knees or thereabouts.
Send Your Inquiry For Basketball Bag Customization