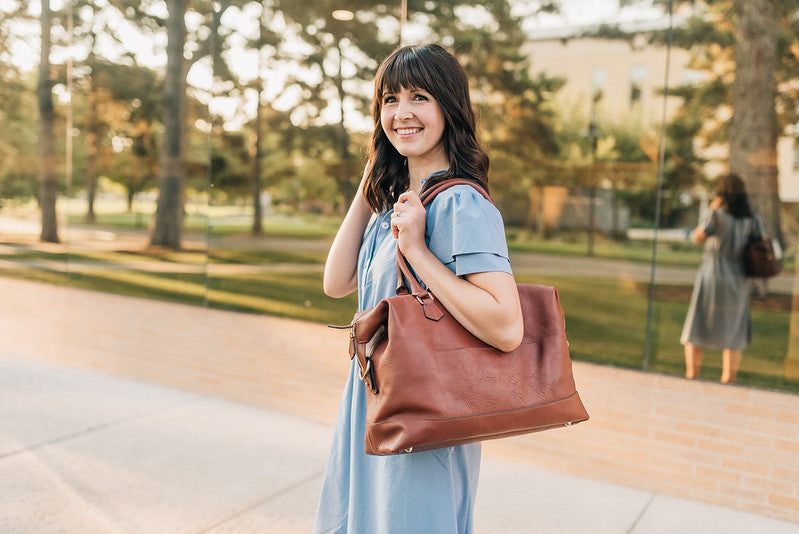 As a new mom, one of the most important supplies you will need to invest in is a good diaper bag. After all, this bag will be your go-to for storing everything you need to take care of your little one while you are out and about. It's also the largest and most visible accessory you will carry. Whether we like it or not, our diaper bag does say something about our style. But with all of the different diaper bags on the market, how do you know which one is right for you? Here are a few things to look for when purchasing your first diaper bag.
Size and Storage Space
One of the most important things to look for in a diaper bag is size and storage space. After all, you will need a place to store diapers, wipes, bottles, snacks, clothes, blankets, changing pad, and more. And, let's be honest, as a new mom you will probably be carrying a lot of extra stuff around with you just in case. So, make sure to choose a diaper bag that is large enough to fit everything you need but not so big that it becomes cumbersome to carry.
Additionally, pay attention to how the bag is organized. You will want a diaper bag with several compartments, thoughtfully laid out so that you can easily find what you need without having to dig through an unorganized mess. And, if possible, try to find a bag with an insulated pocket for bottles – this will come in handy on those hot summer days. Elasticated pockets cinch close with elastic near the opening, which helps secure items in place. Lastly, quality materials and water-resistance will preserve the use and feel of your bag through the mishaps that are sure to happen.
Style
When it comes to style, there are two a few main options for diaper bags – messenger style, backpack style, or handbag style (the most rare, but our favorite). They each have their own set of benefits and drawbacks so it really comes down to personal preference. If you choose a messenger style bag, it will be easier to access the contents of the bag since it hangs at your side. However, these bags can often be difficult to carry if they are too heavy or full since they put all of the weight on one shoulder. The same is true for a handbag-style diaper bag. Backpack style bags solve this problem by giving you the option of distributing the weight evenly across both shoulders; however, they can often be difficult to access while you are wearing them since they are stored on your back.
Budget
Finally, when choosing a diaper bag make sure to consider your budget. Keep in mind that this is a piece of baby gear that you will likely use for at least a year or two (or longer if you plan on having more children), so it's worth investing in a quality bag that will last. This is where bag flexibility can pay off, allowing you to use the bag outside of caring for your baby.
Choosing the right diaper bag is an important decision for any new parent. After all, this bag will become your go-to for storing everything you need while taking care of your little one on-the-go. When selecting your first diaper bad, make sure to consider factors such as size and storage space, style, and budget. By doing so, you'll be sure to find the perfect bag for your needs!
Junyuan Bags | Professional Bag Manufacturer