I have been using travel toiletry bags since my very first trip abroad in 2012. Then it was just a simple pouch where I put all my basic necessities – travel sized shampoo and shower gel, deodorant, face wash and some makeup. As I traveled with a carry on only I put everything in a clear quart sized (1 liter) zip-lock bag and then placed the zip-lock bag in a pouch.
Now – traveling long term and spending abroad most of the time – I carry more toiletries with me. Even just recently I traveled with 2 simple toiletry bags – one that is smaller I used for my make-up, and the largest one was used for my toiletries. But it's not the best option, as it is not practical and takes up more space than one good toiletry bag.
Now I am using the NeatPack Compact Toiletry Bag. Even though it is a compact toiletry bag it can hold everything I need on a few months-long trip as well.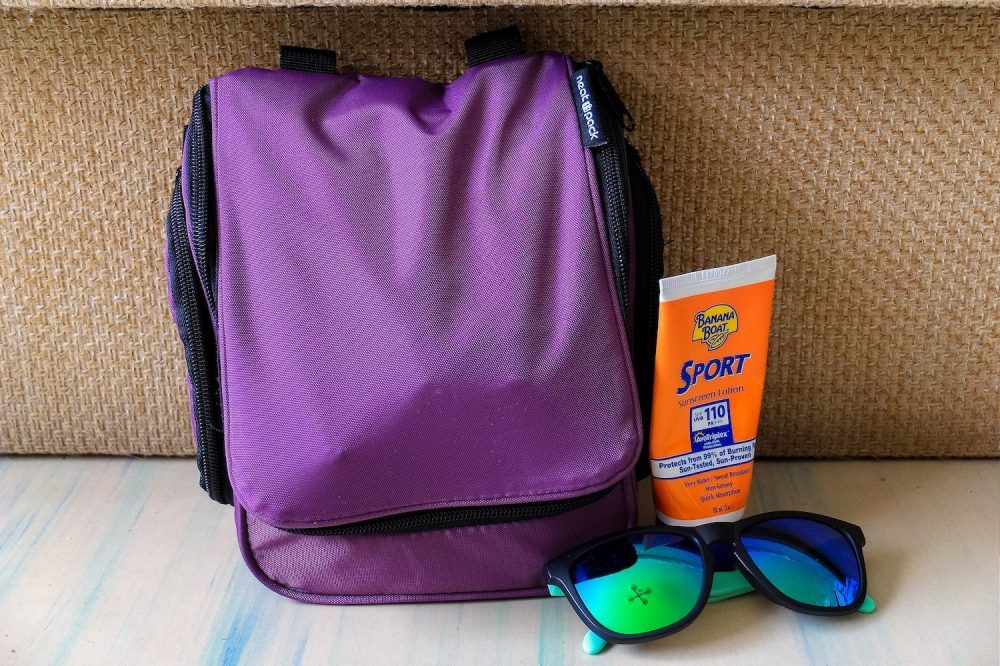 NeatPack Hanging Toiletry Bag: Details
Dimensions: 8.5" x 8.25" x 3" (22 x 21 x 8 cm).
Made of: durable, water-resistant 420D nylon fabric and antimicrobial mesh.
Compartments: 1 main compartment, 4 zippered pockets, a few small open slip pockets.
Features: metal hanging hook, 1 see-through plastic pocket (with zipper).
Colors: Eggplant, Marine, Forest, Maroon, Graphite.
NeatPack Hanging Toiletry Bag: Review
The NeatPack features several compartments of various sizes, which is very good for organization.
When you'll open the main compartment of the toiletry bag you'll see that there's roomy open compartment with 1 zippered mesh pocket at the front and 2 mesh slip pockets at the back. There's a clear plastic leak-proof zippered pocket on a lid. Pocket's dimensions are: 5.9″ x 4.7″ (15 x 12 cm). The main compartment has a two-way zipper.
There are 2 side pockets on the outside of the main compartment. Each of these pockets has two elastic loops and a mesh pocket, which help to secure small items (mascara, eye liners) so they don't fall out when the pocket is opened. The side pockets zip open all the way down.
The NeatPack toiletry bag features a sturdy metal hook which is attached to a durable mesh flap. There's a grab handle at the top of the toiletry bag.
There are two loops on each of the toiletry bag's sides. Looks like those can be used to attach the toiletry bag to a backpack using carabiners or elastic bungee cords.
The NeatPack compact hanging toiletry bag is made of durable, water-resistant 420D nylon fabric. The inside of the bag is lined with the same nylon fabric. The lining reduces leaks. Note, that this material isn't fully waterproof. So, if the whole bottle gets emptied inside the bag, the liquid most probably will go through and dampen the clothing.
NeatPack Compact Toiletry Bag Is Compact But It's Not Tiny
As I mentioned before – despite the fact that this is the smallest of the NeatPack's toiletry bags (a compact toiletry bag), I was able to fit all the necessary stuff in it without any problems, even a couple of full-sized bottles!
Here's the list of things I was able to fit in this toiletry bag:
Shampoo – 6.7 fl oz (200 ml)
Shower gel – 10.14 fl oz (300 ml)
Toothpaste – 3.38 fl oz (100 ml)
Toothbrush in its travel container
Face scrub – 2.53 fl oz (75 ml)
Face wash – 1.7 fl oz (50 ml)
Body lotion – 1.7 fl oz (50 ml)
Roll on anti-perspirant – 1.7 fl oz (50 ml)
Sunscreen – 3.38 fl oz (100 ml)
BB Cream – 1 fl oz (30 ml)
Hand sanitizer – 2 fl oz (60 ml)
12 perfume samples
Nasal inhaler stick
Mascara
A couple of eye liners
A two-tone eye shadow palette
Mini compact powder
2 make up brushes (powder brush and eyeshadow brush)
Eyebrow razor
Dental floss
Remember, if you are traveling with a carry on only, you must leave all the big bottles at home! You are allowed to bring a clear quart sized zip-lock bag (1 liter) of travel size bottles of liquids, creams and aerosols. The bottles should not exceed 3.4 fl oz / 100 ml.
What I do when I travel with a carry on only – I put all the travel size bottles of liquids in a zip-lock bag, and then place the zip-lock bag in a toiletry bag. When I have arrived at my destination, I unpack the zip-lock bag and place all the travel size bottles in my toiletry bag. I buy larger bottles of toiletries when I have reached my destination and I have plans to stay there for a longer time, travel overland or to check in my bag.
If you'd prefer larger toiletry bag, NeatPack also has a larger version as well. It's wider and higher, and has larger pockets. There're 3 mesh open slip pockets instead of 2. The bag features a removable clear plastic pouch, as well as non-detachable clear plastic pocket. The larger toiletry bag features a swivel metal hook.
Ten articles before and after
10 Best Tote Bags for Women – Buying Guide – Junyuan Bags
WATERFLY Backpack Review: An Inexpensive Transformer Backpack – Junyuan Bags
Junyuan Bags – Page 4 of 6 – Luggage Reviews. Travel Accessories. Packing Tips
Best Luggage Sets in 2019: Buying Guide – Junyuan Bags
Best Underseat Carry on Bags: Best Underseat Luggage – Junyuan Bags
Best Travel Toiletry Bags 2019: Buyers Guide – Junyuan Bags
Best Hardside Luggage 2019: 8 Top Rated Suitcases – Junyuan Bags
Best Anti Theft Backpack 2019: 8 Best Anti Theft Bags – Junyuan Bags
Luggage Buying Guide: How to Choose Luggage for Travel – Junyuan Bags
Best Travel Makeup Bag 2020: 7 Best Makeup Bags – Junyuan Bags