Make a lasting impression at Canton Fair with Custom Golf Bag
Canton Fair is the oldest, largest, and most comprehensive trade platform in the world, where businesses are from around the world. The Canton Fair will be held from May 1st to May 5th, as such, there are sure to be a lot of opportunities for businesses to invest in quality bags, especially unique golf bags and custom golf bags.
When visiting the exhibition, you will find that there are varieties of bag products, including handbags, military bags, leather bags, hunting bags, quilted bags, school bags, business bags, luggage, etc. Regarding golf bags, sports bags are mere to find. But luckily, JUNYUAN Bags, the professional bag manufacturer and designer, we have brought the latest golf bags and sports bag series to Canton Fair (Located at booth No. 9.1 C13). We also accept custom golf bags.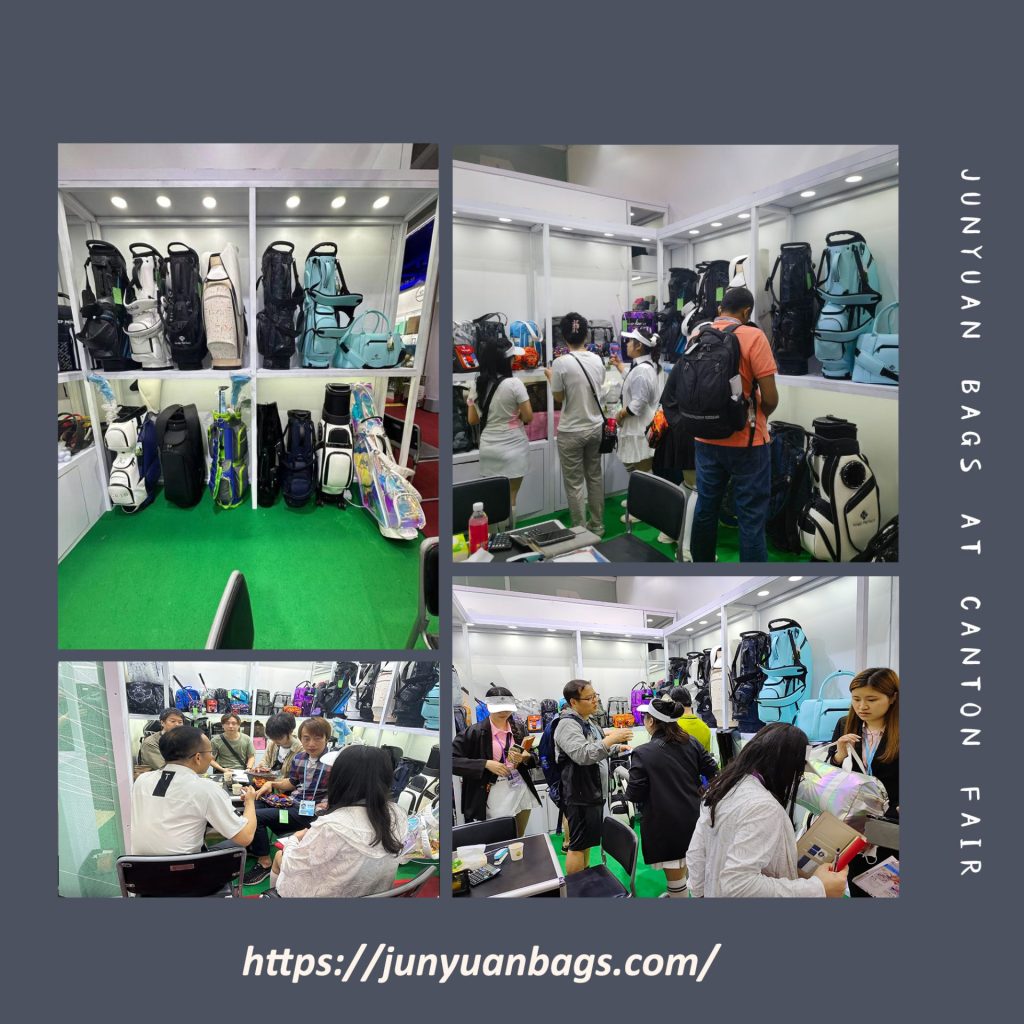 Why Choose Custom Golf Bags?
As a matter of fact, the Custom golf bag is a great way to make you become a focus on the golf course, as well as provide the maximum comfort and convenience for carrying your golf accessories. You will also find that there are a wide range of golf bags to choose from at JUNYUAN Bags, including various golf bags designed for both men and women, golf stand bag, golf cart bag, golf tour bag, golf Sunday bag, golf Boston bag, and more. Most of the bags are made of superior material so that you can use them for a long time.
Besides the custom golf bags, we also offer custom golf accessories, custom golf shirts, golf hats, golf gloves, golf shoes, etc. Actually, you can get a full set of golf equipment and enjoy your golfing activities.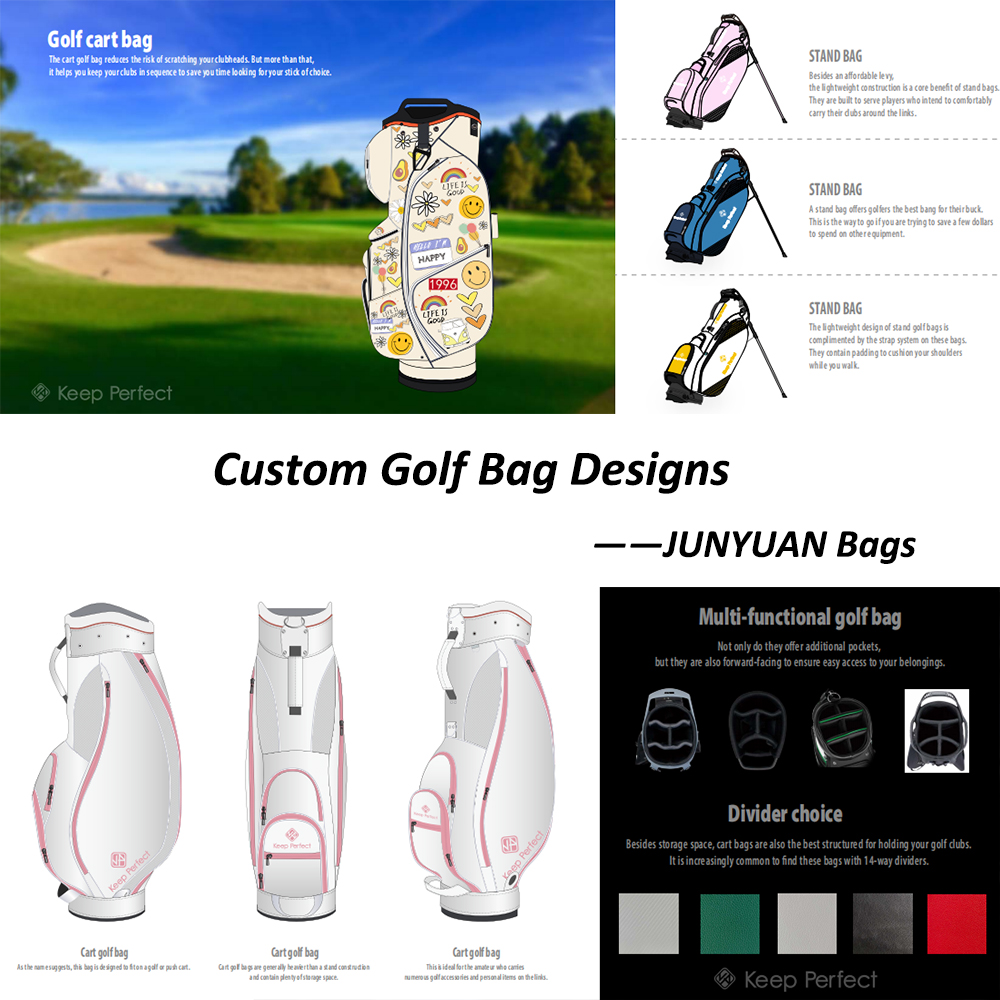 How to Customize a Golf Bag?
Some may ask how to customize golf bags and other golf accessories. Here are some short tips for you.
1. Choose the golf style you like from our range or share your ideas about the golf bags, we will check and give you some suggestions, and even make the golf bag design draft for you to check.
2. Choose the material you prefer, material options are flexible, including leather, nylon, Oxfod, canvas, leather film, carton fiber, etc.
3. Choose the logo types, we can offer you silk screen, embroidery, rubber logo, metal logo, woven label, and more.
4. Other details like colors, construction, the top dividers, and the functional pocket, can be also customized.
In addition to custom golf bags, custom sports bags are also accepted. The sports bag we displayed at Canton Fair includes disc golf backpacks, sports backpacks, roll-top backpacks, duffel bags or gym bags for both men and women, pickleball bags, tennis bags, badminton bags, and more.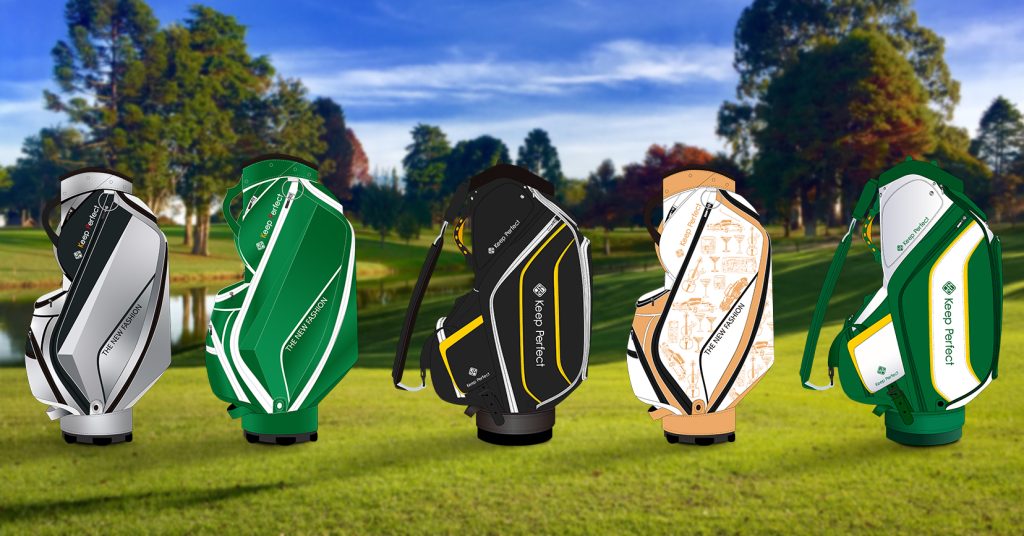 Custom golf bags are an excellent way to make a lasting impression at the Canton Fair. By choosing the right bags that are of high quality and that reflect your branding, you can be sure that your business will stand out from the crowd and make a lasting impression.