Your tickets are booked and you're getting ready to play a game at one of the courses on your bucket list.
But, you have to make a plan to take your clubs! You'll need to find a quality golf travel bag that ticks all the boxes. So, what makes for a quality golf travel bag?
Read through our Best Golf Travel Bags Review to find the right bag for your travel needs.
Other Accessory Reviews: Carry Golf Bags | Golf Electric Trolleys | Push Carts | Trolley Batteries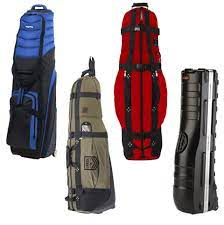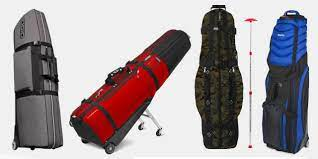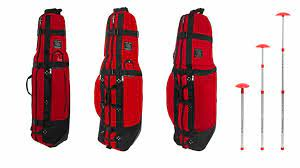 Below are our selection of the best travel bags for golfers:
Best Value: AmazonBasics Travel Bag Case With Wheels
Most Durable: CaddyDaddy Constrictor
Most Lightweight: Sun Mountain ClubGlider
Best Hard Shell: SKB Golf Travel Case
Best Large: Samsonite Hardside Golf Travel Bag
Also check out our golf travel bag buyers guide.
Best Travel Golf Bags
1. AmazonBasics Travel Bag Case With Wheels
The Amazon Basics golf travel case is very 'basic', but well-constructed and super affordable.
It will provide good protection for your clubs with a number of adjustable straps on the outside of the bag to secure your clubs.
It also comes with wheels for easy transport.
Pros
Moulded shell at the top of the bag provides additional protection for your club heads
Dual zipper running the length of the bag allows for easy loading and unloading
Really cheap!
Cons
The notches on the wheels result in annoying vibrations and are louder when pulling the travel cover across smooth airport surfaces
2. CaddyDaddy Constrictor
Global Golf
The CaddyDaddy Constrictor 2 Golf Travel Cover is made with heavy duty nylon material and comes with wheels at the base which make it easy to pull around the airport.
Inside the cover is a very useful adjustable strap feature that allows you to secure your golf bag.
Pros
2 Large pockets to store your golf shoes and other accessories
Strong, durable, secure and heavily padded
If you are not into spending a large amount on a travel bag, this is definitely the bag for you
Cons
If you still want your travel bag to be stylish, you might not be too keen on this option
3. Sun Mountain ClubGlider
Global Golf
What sets this Sun Mountain ClubGlider Travel Cover apart from others is the integrated leg set that, when extended, supports the entire weight of the bag and its contents.
This makes it incredibly easy to navigate through airports, parking lots and hotels.
Pros
2 pockets for extra storage
Pivoting caster wheels makes for very easy navigation
Internal cinch straps for extra protection
Available in a variety of colours
Cons
The only slight issue was the capacity of the Journey version of the ClubGlider bag. It will easily fit a carry bag and most small to mid-cart bags, as long as the circular width around the base and ball pocket is 36cm or less
4. SKB Golf Travel Case
Global Golf
If you are not a fan of the soft travel cases, then this hard shell case might just be the option for you.
Its dirt/dust/moisture resistant housing is made from a military grade, ultra-high molecular weight polyethylene.
Your clubs are guaranteed to be safe, no matter how rough the baggage handlers are. The SKB Golf Travel Case is contoured to fit cart bags, carry bags, and drivers up to 48″.
Pros
Hard shell case makes it extremely durable
Offers great protection for your clubs
Big enough to fit most popular sized bags with enough space for extra accessories as well as a 48 inch driver
Million-mile guarantee
Cons
Like most hard shell case travel bags, it does take up quite a bit of space when it comes to storage.
5. Samsonite Hardside Golf Travel Bag
Global Golf
Should hard shell case travel bags be your "cup of tea" then here is another great option for you – Samsonite.
The Hardside Golf Travel Bag case is absolutely massive and will even fit those 10.5 inch top sized cart bags.
Pros
Made of a super solid ABS shell for extreme durability and protection
Internal compression straps to secure your golf bag
Multi-direction wheels makes it easy to push around the airport
Cons
This case is so big that it won't fit in a normal or small-sized car
The Bag Boy T-250 Travel Bag fits a 46″ driver and up to a 10″ cart bag. It is made from a durable, waterproof 600D polyester and has a padded top protects clubs.
It features smooth rolling wheels and reinforced corners for added durability, a wrap-around zipper for easy access to club compartment.
There is a reinforced nylon carrying strap with Velcro locking handle and an interior strap stabilizes bag during travel.
There is an oversized shoe and an oversized garment pocket and an ID tag for easy identification.
Golf Travel Bags – Buyers Guide
1. Durability & Protection
If you are a regular traveler, I am sure you would have noticed that your luggage takes a beating and often looks worse when you actually get to your destination! Golf travel bags need to be durable to withstand regular travel and all that goes with it.
Baggage handlers at airports often show no mercy when handling golf clubs, so your travel bag should be strong enough to prevent your clubs from bending or breaking. Higher quality golf travel bags will have thicker padding inside which will provide extra protection for your clubs.
2. Usability
Golf bags are fairly heavy under normal conditions and definitely heavier when adding shoes and accessories. One often has to carry this bag a long distance at airports so it is imperative that your travel bag is easy to handle/carry to ensure maximum comfort when doing so.
3. Size
Probably the most crucial aspect to consider when buying a travel bag is to ensure that it can cover your actual golf bag. Too big and your clubs will move and bump around resulting in damaged clubs. Make sure to check out the dimensions of both your golf bag and travel bag before buying.
4. Design
Extra functions such has a locking mechanism can come in handy. Additional compartments which may be sewn into the bag can also be very helpful. The more equipment and personal belongings that can fit into the travel bag, the more beneficial it will be for your trip!
Golf travel bags come in a variety of sizes and shapes.
In our golf travel bag review, we have focused on travel bags that are intended for standard carry bags, not large tour bags.
We looked at both soft cases and hard shell bags.
People also want to know
What is the best golf bag travel?
Hard case golf travel bags
SKB Cases ATA Deluxe Standard Hard Plastic Storage Wheeled Golf Bag. …
Samsonite Hard-Side Golf Bag. …
OutdoorMaster Padded Golf Club Travel Bag With Wheels. …
Sun Mountain Golf ClubGlider Meridian Club Cover Travel Bag. …
CaddyDaddy Golf Ranger Carry Sunday Range Travel Bag.
Which company makes the best golf bags?
The best golf bags 2022
PING Hoofer. Best overall golf bag. …
Zero Friction stand bag. Best value stand bag. …
Sun Mountain H2NO Lite Speed Stand Bag. Best waterproof bag. …
Titleist Players 4 Plus. Best players' bag. …
Callaway Fairway 14. Best overall cart stand bag. …
MNML MV2 stand bag. …
Vessel VLS stand bag. …
OGIO WOODĒ 8 Hybrid.
Can you bring a golf bag on a plane?
Can I Take My Golf Clubs on a Plane? Almost every airline treats golf clubs as standard luggage. TSA generally permits golf bags as checked luggage but not as carry-on. But pay attention to the fine print: it's up to the TSA officer at the gate whether or not you'll be allowed through with your golf bag.
Ten articles before and after
Blog – How to add a coin pocket to The Gentleman's Wallet Sewing Patterns by Junyuan bags
Best Golf Bags 2020 (Complete Guide) | Junyuan bags
Blog – Attaching the Lining Panels (Nappy Bag Sew Along_ Sewing Patterns by Junyuan bags
Nike Air Hybrid Carry Bag (Expert review) | Golfassessor
Blog – The Gentleman's Wallet Tester Pics Sewing Patterns by Junyuan bags
Blog – Introducing The Gentleman's Wallet Sewing Pattern Sewing Patterns by Junyuan bags
Best Lightweight Golf Carry Bags (Expert Review) | Junyuan bags
Titleist 2015 Stand Bag (Expert Review) | Golfassessor
Blog – Lining Pockets (The Nappy Bag Sew ALong) Sewing Patterns by Junyuan bags
Taylormade Purelite Stand Bag (Expert Review) | Golfassessor