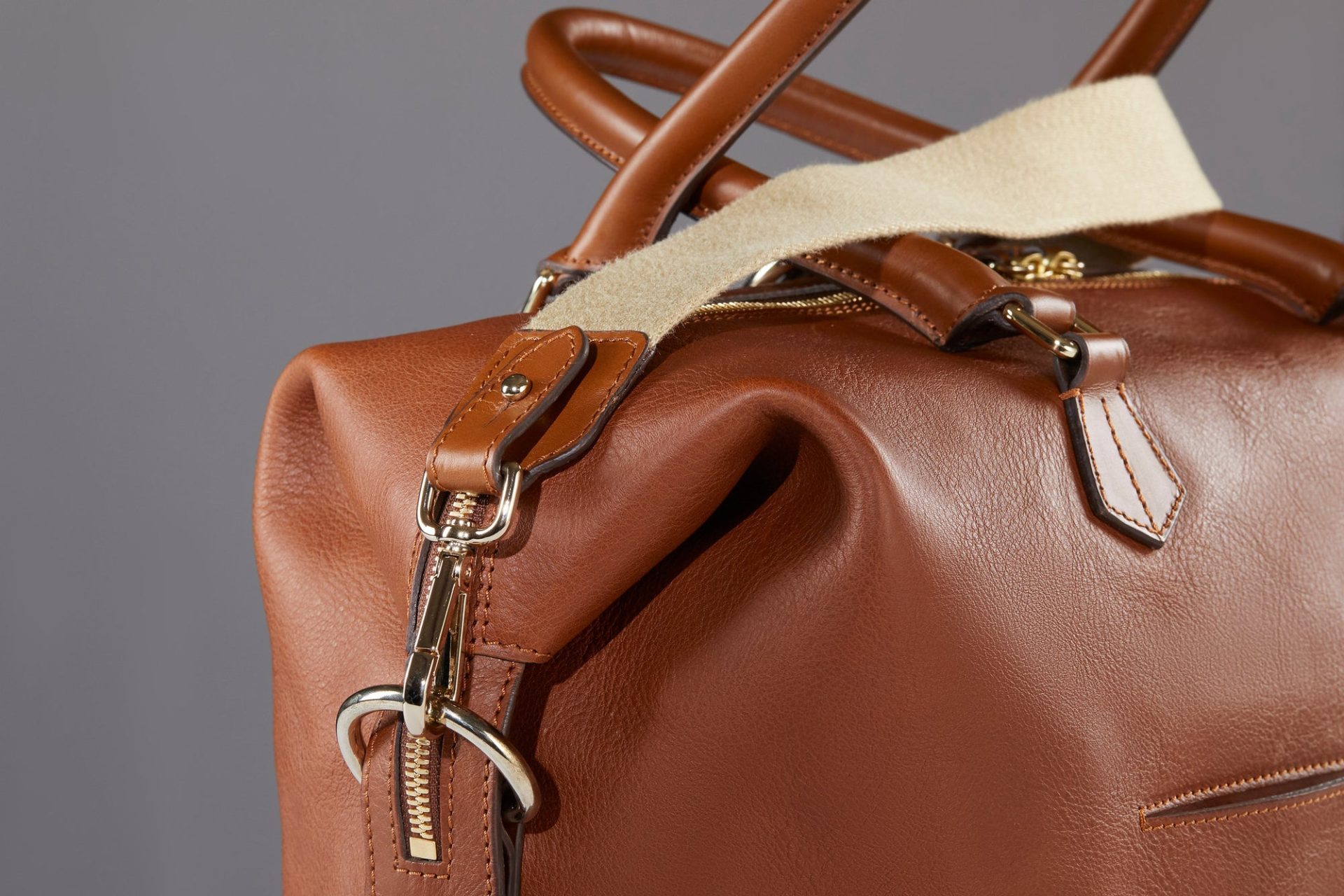 When you shop for leather products, are they really leather? Let's take a deep dive into what brands call 'leather.' Most items fall into one of three categories
Vegan or PU leather
Chromium-tanned leather
Vegetable Tanned Leather
It's important to understand the differences between each type of leather to understand what you are buying – it may change your preferences.
Vegetable-Tanned Leather
Vegetable-tanned leather or veg-tanned, refers to the method by which the animal skin, or hide is dyed. This method is the oldest – vegetable-tanned leather was found on 
Ötzi – a 5,000 year old mummy found frozen in the Italian alps – and the more natural of all tanning methods. It uses chemical-free powders made of tree bark, leaves, and other plant-based sources to give the hide a rich and earthy look. Italy is a world-wide producer and exporter of vegetable-tanned leather. Artisans have passed manual skills down from generation to generation and now in modern times continue to push for new methods of achieving even more beautiful and lasting leather.
Junyuan Design leather diaper bags are part of less than the 10% of world-wide veg-tanned products produced. Due to the attributes of vegetable-tanned leather, your leather diaper bag, handbag, backpack, or wallet will end up looking more natural and last longer than other dying methods. Importantly, it will have a considerably smaller environmental-impact due to its longevity and chemical-free process.
Vegetable-Tanned Leather Characteristics
Chemical-free and biodegradable
Possesses natural leather scents and aesthetic: grainy, with spontaneous patterns and non-uniform appearance including marks or traits visible on the animal prior to leather extraction are most easily seen with this leather type
Highly absorbent and breathable; scratches can rub out more easily; pores are much more visible
Colors are richer and deeper, less artificial and opaque, patina or soft sheen naturally develops
Soft seen or patina gets better with time and use and doesn't crack or dry out, thus has a long lifespan
It has an earthy, natural tone and smell
Chromium-Tanning
Chromium-tanning was developed back in the 1800s to shorten the tanning process that was taking weeks and even months. Instead, this method only takes one day. This is the reason why over 85% of the leather used in the world is chromium-tanned leather. Although it's the most popular form of producing leather and unfortunately one of the most harmful. It is dangerous for both the environment and industry laborers. Specifically, the dumping of solid and liquid waste byproducts contain leftover chromium and other hazardous compounds and can contaminate water supplies. This is very common in regions without strong environmental protection standards, which also happen to be the developing countries where leather is tanned. In large doses, when the chromium-laced waste is dumped into regional water systems, it can damage fish gills, contribute to respiratory problems, infections, infertility, and birth defects.
Because chromium-tanned leather is the most common, you should assume that unless otherwise stated chromium was used in the dying process. This includes genuine or partially genuine leather under the names bicast leather, split leather, bonded leather, reconstituted leather, and corrected grain leather.
Chromium Leather Characteristics
Chrome tanned products are cheaper and more common than vegetable-tanned leather products
Colors of the leather remain unchanged during the product's entire lifespan, meaning a patina will not develop 
Thinner than vegetable tanned leather
The process of chrome tanning creates toxic wastewater that has detrimental environmental impact, (especially in the developing world)
Chrome tanned products neither wears well nor lasts very long and can crack after a few months of use
Chrome tanned products often carry a chemical smell and can look artificial
PU Leather, or Polyurethane Leather
100% PU leather is completely artificial and is one of the most common 'vegan' leathers. There are however some types of PU leather called bicast leather, which contain actual leather but have a polyurethane coating on top. This type of PU leather takes the fibrous part of cowhide leftover from making genuine leather and put a layer of polyurethane on top of it.
What is Vegan Leather
It can be hard to identify vegan leather because it has so many names. Here are a few you may have seen on product listings:
PU (Polyurethane) Leather
Faux Leather
Vegan Leather
PU products are attractive mostly because of their lower price. But there are some of the cons to it:
Can look fake and synthetic
Isn't breathable like genuine leather
Can smell of chemicals or plastic
Easily wears over time, can crack, which means it doesn't last as long as real leather
Can puncture or tear easily, unlike genuine leather
PU leather doesn't develop the same luster or patina as real leather over time
Even though it uses fewer resources to make, plastics don't decompose and aren't the most eco-friendly. 

It may not be achievable that all the products we buy be made of the most natural method of the three; but when it comes to your daily bag you use when carrying for your baby, you may want to select the only leather diaper bag made of veg-tanned leather. It will last you the longest, it will look and smell most natural and it will have the smaller footprint on the planet.
Junyuan Bags | Professional Bag Manufacturer