Ask me! That's it. I have the best solutions curated for you.
Fortunately, with the right equipment, cleaning leather is a breeze. Even a brief clean can add years to the life of any leather product.
You'll need the following items:
Several cleaning cloths

Cleaner for Leather

Conditioner for Leather (see below)

Polish for Metal
Not all leather treatments react well to all cleaning agents. Before using a product on your entire handbag, spot-test it on a small, out-of-the-way area of your bag.
The Steps:
Before cleaning your leather purse, brush off any dust or grime that has gathered. Swipes with a clean, dry cloth are an excellent method to do this. It's a good practise to dust your purse every few days to keep dirt and dust from accumulating.
Apply some leather cleaning to a clean cloth (make sure it's intended for leather), then gently work it into the leather in circular movements. Instead of scrubbing it inch by inch, make broad circular motions to clean huge areas at once. This will guarantee that the purse is cleaned evenly.
After that, dampen a towel lightly and use it to wipe away the cleanser. The cleanser should come off with a light wipe, so no scrubbing is required. This step is necessary to avoid blocking the leather's pores with cleaning.
The most basic way of leather care is to use a cleaning. To maintain your leather purse in good shape, repeat the cleaning process a few times a year.
Cleaning the zips and straps
Apply metal polish to the hardware of your handbag with a cloth you don't mind getting a little bleached. Because this type of metal generally has an outer plate covering the base metal, rub the polish in carefully. Scrutinizing the hardware may eat away at the plating, causing it to flake. Finally, polish the hardware with a white or light-colored cloth to remove any tarnishing and leave your purse looking new!
Make sure you don't get any metal polish on the leather or other non-metal materials when applying it. These materials may become discoloured as a result of the polish.
A leather conditioner can help keep your leather from drying out. Faux leather is less of a concern, but high-quality real leather will crack if not properly cared for.
Apply leather conditioner on your purse using a clean towel. Because you want as thin a coating as possible, do not apply the conditioner straight to the leather. To achieve equal application, gently spread the conditioner throughout your bag in large portions. To ensure that nothing is missed, make sure you apply it properly to places that aren't flat, such as around zippers or pockets. Finally, polish the leather with a dry towel.
Condition your leather bag twice a year, or more regularly if you reside in a dry area of the world, as part of the regular maintenance cycle.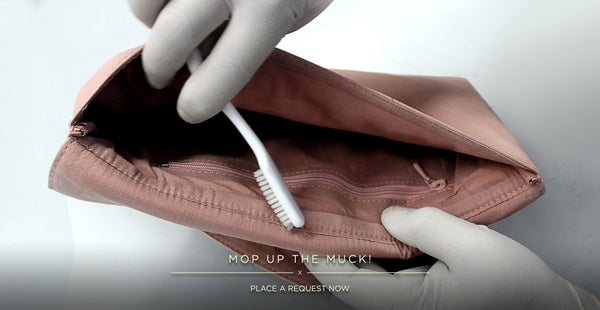 Important Question: Which leather conditioner is good?
Well, make it yourself! Sharing the secret right away!
Make your own conditioner instead of wasting your money on a store-bought conditioner. 2 parts linseed oil, 1 part white vinegar (aka flaxseed oil). To help keep your leather in good shape, use the conditioner as directed above.
How to clean Stains?
A leather bag can benefit from regular care, but accidents sometimes happen. Here's how to clean your bag of spills, stains, and more.
Apply nail paint remover or rubbing alcohol to the spot using a cotton swab or the corner of a cloth. Blot it softly so that the ink does not spread. Continue dabbing until the stain has been removed. Finally, towel dry the afflicted area after wiping it clean with a wet cloth to eliminate any residue.
Sprinkle baking soda or cornstarch over the discoloration. Both will aid in the absorption of oil and grease. Gently massage the powder into the stain with a wet towel. Allow your purse to sit overnight, and the stain will be absorbed. Wipe away any residue with a towel after removing the powder.
Combine 1 part lemon juice and 1 part cream of tartar. Allow the resultant paste to rest for ten minutes on the stained area. Wipe away the paste and allow the leather to dry completely. Repeat as needed to remove the stain.
If you spill a lot of liquid on your leather purse, attempt to absorb as much of it as possible first. To absorb the liquid, use tissues or a dry towel. After that, wet a clean towel with warm water and dab it on the afflicted region. To prevent the stain from spreading, work from the outside in. Finally, dab the affected area with a dry towel to absorb any residual wetness. Allow your leather handbag to dry in a warm place.
While cleaning, avoid rubbing the stain as this might cause it to spread or sink further into the leather. Furthermore, do not use direct heat, such as a hair dryer, to dry the damaged leather. This can cause the stain to solidify, resulting in a much more persistent stain.
How to make your Leather Bag odorless?
Bacteria are generally to blame for unpleasant scents emanating from your leather purse. The interior and exterior of the purse must be cleaned to eliminate smells. Here are some particular cleaning techniques for removing odours:
Because you'll need to clean the inside lining, make sure you have cleaning supplies designed for the liner's material on hand.

It's possible that your purse has a detachable liner. Examine to determine whether this makes interior cleaning simpler.

Dig inside the pockets and corners of your purse when cleaning. Bacteria frequently develop in these environments.

Clean the handles and other high-traffic areas thoroughly. Odors can be caused by oils from your hand seeping into the leather.

If you opt to use a freshening spray on the lining after cleaning, do not soak it, since moisture might cause the leather to distort or the metal hardware to tarnish.
Mold Alert: How to clean mold on a leather bag?
Mold may eat away at leather, creating smells and discoloration. Fortunately, it is simple to clean in order to keep your leather handbag in good condition.
Make sure your leather purse is completely dry before cleaning it. This may be accomplished by placing it in a warm area for many hours. Wipe off any surface mould from the leather with a wet towel for the initial clean. If your purse is dry enough, the mould will simply peel off.
After washing, let the bag dry a second time. Then, on your purse, apply a leather cleaner to remove any deep-set mould that is hidden out of sight. To prevent further mould growth, store your leather purse in a low-humidity setting in the future.
Frequently Asked Questions
1. How to Remove Leather Bags smell?
Usually freshly made leather have an earthly odour to them which some of the people like and other hate. In any case they usually go away within a week or two of usage. Still if you would like you can remove that smell faster by using.
* Febreze Material Classic – this will likely reduce the effects of any smell with just a few sprays to the inside the natural leather bag. Fabreze is offered from most large grocery stores you could read more regarding it here.
* Baking Powder – a dusting of baking powder inside the handbag and also left overnight will certainly soak up any dampness and therefore reduce the smell. (This is often quite untidy though and may well momentarily leave white powder marks inside your own lovely leather satchel).
* Important & Scented Oils – several drops of your selected scent ( lemon , jasmine or almond as an example ) on tissue paper, which you carefully massage over the outside and also within the bag may have them smelling great very quickly.
2. Can leather bag be washed?
We don't suggest to get genuine leather bag to wash it but its okay to use a light wet cloth to clean it time to time.
3. Is Leather Bag waterproof?
Not all leather bags are water resistant but then again it totally depends on the tanning. Like Junyuan Bags bags are usually water resistant because of the vegetable tanning.
4. How can you waterproof leather your bag?
The oiling process which we have performed throughout the production of your leather-based bag provides good protection against the components but when you need to do would like to additional waterproof your own leather bag after that listed here are a few choices:
Collonil leather gel – a fairly good way to maintain your satchel water resistant (Mulberry suggest it so that it needs to be a good idea).
Nikwax waterproofing wax for leather-based – this is often an excellent water-proofer for leather-based.
5. Can Scratches on Leather Bag be repaired?
Yes, small and light scratches on leather bag can be repaired by leather oil or leather conditioner. You need to find a good leather repair shop in your country to deal with deep scratches but yes, its fixable.
Junyuan Bags Where Leather Gets Better