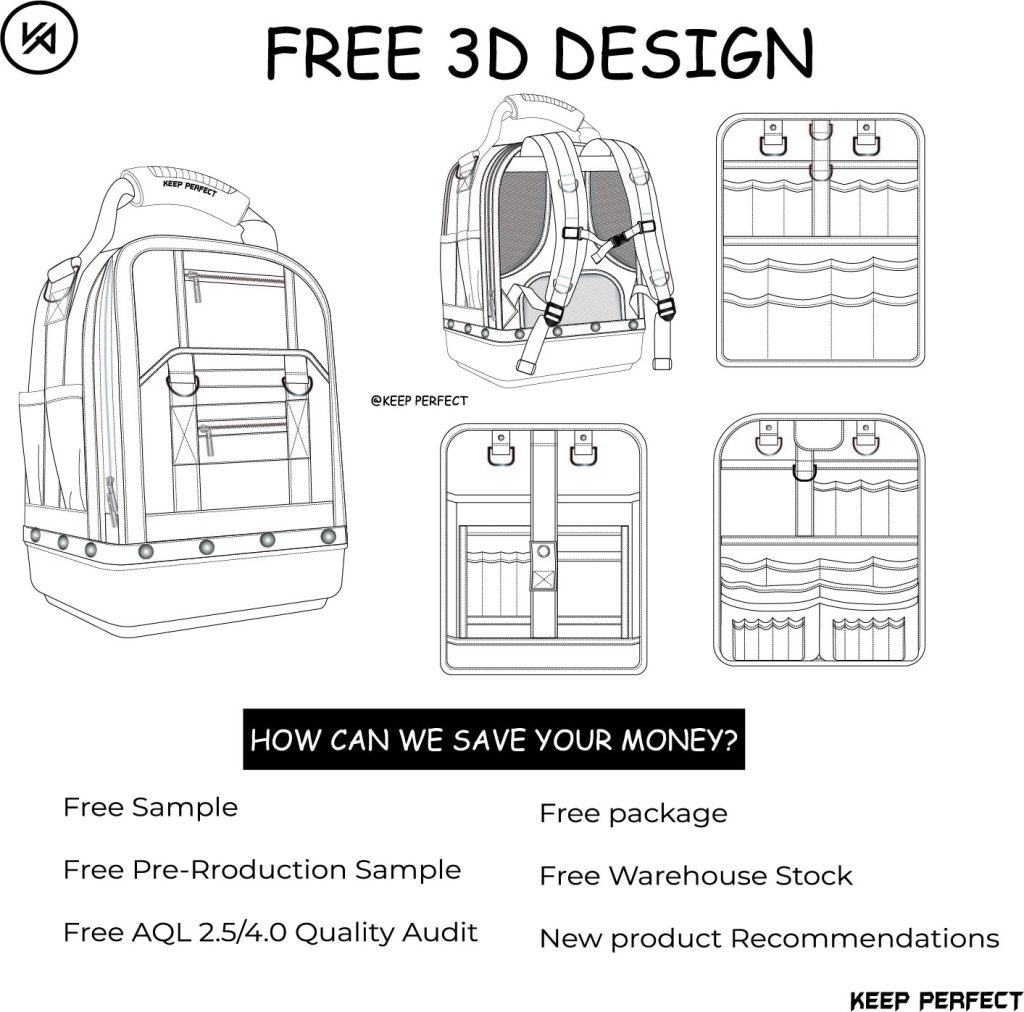 Help your job go much more smoothly: Electrician Tool Bag
If you want to carry tools around often for your job or more home improvement projects, then investing in tool backpacks seems to be a great idea. Tool backpack for electrician apprentices is designed to help hold everything you need to bring with you, such as hammers, nails, and even saws in one place. So, you'll be able to climb up ladders or crawl around in tight spaces without having to carry everything around on your own.
The best tool backpack for an electrician sometimes can hold laptops. This will help you to take your device around with you without any difficulties. So, today we're going to talk about the best tool backpack for electricians and all related stuff regarding the tool backpack to help your job go much more smoothly.
Benefits of Tool Backpacks for Electricians
When you're working in your garage or tool cabinets, you'll find tool organizers are capable of storing your tools efficiently. However, if you're an electrician, these things won't be enough for storing your accessories. In this case, you'll need a tool backpack.
By getting a tool backpack, you'll provide yourself with numerous benefits. These benefits are given below:
Great Organization
Tool backpacks include a large number of loops. These loops can offer you high quality. Therefore, you'll be able to perform well while you're working. Moreover, backpacks have pockets more than 50; which will enable you to preserve bigger and smaller tools at the same time.
Easy Transportation
With a tool backpack, you'll have the ability to carry a lot number of tools without using much of your bag's space. As a result, you'll be able to transport them from one place to another with much ease; without feeling burdened
Waterproofing
Tool backpacks are usually waterproofed. So, you can stay assured of the fact that your tools will stay safe, no matter what type of weather conditions you're currently in.
Less Weight than a Traditional Bag
Tool backpacks have a weight of not more than 6lbs, no matter how much the dimensions and size are. Meanwhile, traditional bags are made from heavy materials that feature higher specific weight and density. Their mass is barely less than 10lbs. Some of them weigh 20lbs, despite being empty.
Electrician Tool Backpack: How Does It Work?
A tool backpack usually functions based on its design, the specific features it comes with and the benefits it can provide you with.
It basically works by carrying all of your stuff and accessories you'll most likely need to do your job. One way it works for most electricians is based on the number of compartments and pockets it features. The more pockets and compartments it features, the more space it can offer you for preserving your tools.
You can expect a tool backpack to work depending on its carrying straps. It's because carrying straps can give you a more convenient experience when you're lifting the bag.
You can also expect it to work better if it provides you with adjustable and padded straps. If you fill your backpack with tools that will make it very heavy to carry, then these types of straps will help you decrease the struggle you might have to experience.
Besides, if you're concerned about the design of the back of your bag, then you'll be very glad to know that most backpacks come with a padded back. Therefore, you'll be able to carry your backpack with much comfort and ease; even if it's heavy.
Electrician Tool Backpack: Types
You can find an electrician tool backpack available in different designs, construction materials, and types; such as canvas, nylon, polyester, etc.
Nylon
Nylon is one of the most popular materials used for making backpacks for electricians. Different polyamides are melted and mixed with various fiber to make nylon. They're extremely long-lasting, abrasion-resistant, and give protection against weather elements as well.
Ballistic Nylon
If you're looking for the bulletproof version of nylon then get a bag made with ballistic nylon. This material was used in World War II to protect the soldiers from shrapnel. Ballistic nylon is a type of nylon with a weave design to make it stiffer.
Polyester
Polyester is another plastic-based fabric that's highly praised for its durability. It doesn't wrinkle and not prone to damage as well. Due to their lightweight property, the overall weight of the backpack is reduced as well.
Ripstop
You've probably come across this word quite a few times in this article. Ripstop is the term used to refer to the material that can't be ripped. Sounds like a great deal, right? Ripstop is a special type of weave with thicker and stronger fiber placed at certain intervals. This material is ultra-strong and helps to prevent small tears from spreading throughout the fabric.
Why Do You Need to Wear a Tool Backpack?
If you're an electrician, then you should definitely spend your money on a tool backpack to preserve your tools. With a tool backpack, you'll be able to carry all of the tools you'd need to use in a safe and secure manner.
Tool backpacks have pockets of various sizes. As a result, they'll be to hold items of different sizes and keep them as organized as possible. Moreover, if you wear a tool backpack, all your tools of yours will stay well-organized, as well as easily accessible.
The most interesting part of tool backpacks is that they're stylized in such a way that they have the ability to handle a huge amount of weight and provide support at the same time.
Most tool backpacks include straps. These straps prevent you from dealing with a lot of inconveniences and discomforts you might come across when you're moving around while carrying it with you.
Another major reason why you need to wear a tool backpack, especially when you earn your living by working as an electrician, is they're very portable. Since they're very portable, you'll undoubtedly experience extreme comfort even if you've filled them with lots of stuff.
Besides, they're so portable that you can walk around with it and use it the entire day without feeling any sorts of physical pain. In fact, because of their portability, you'll be able to do electric repairs of the roof and complete them without experiencing struggles.
Moreover, if you wear a tool backpack, you'll be able to provide your tools with security and protection; as tool backpacks are highly capable of ensuring that all your tools, especially the expensive ones will receive a good amount of protection. In fact, they'll surely stay in great shape; which will increase their longevity.
What to Look for Before Buying?
If you're really interested in purchasing a tool backpack, then you must keep some major factors and key features in mind before you go to the market and purchase one. If you consider these factors and key features before you've bought one, then you'll be able to boost your chance of getting the most appropriate tool backpack. These factors and features are given below:
Material
A key factor you must scrutinize while you're buying a tool backpack is the main material that has been used for its overall construction. You can try spending your money on tool backpacks that are constructed from nylon and canvas. Although these 2 materials are very famous, you can also check out other materials, such as leather.
You must remain extra cautious when you're choosing the material of a tool backpack, as it has a contribution to the durability and sturdiness of the bag. You should also be remindful of the fact that the tools you'd store in the backpack will most likely be heavy. So, you must choose a bag that's made from such a material that won't disintegrate and get damaged even if you've used it for several months.
Pockets
When you're out buying a tool backpack, you must also study how many pockets and compartments they feature, as well as their individual sizes.
Firstly, you must decide how many pockets you want in a tool backpack. If you're able to decide that first, you'll be able to avoid buying one with an excessive or inadequate number of pockets.
Moreover, there are also different tool bags that are equipped with various sizes and number of pockets. In this case, you also need to consider what type of tools you're going to store inside the bag. For example, if you're doing a job where you'd need to bring the drill with you, then you must go for a backpack that has large pockets to store a drill.
Overall Construction
The overall construction of a tool backpack can also have a major effect on your decision. When you're buying one, at first, you must check out whether its construction is sturdy or not. You must also check out if it features any type of things that can improve its overall durability.
For example, there are many tool backpacks that feature a reinforced bottom panel. This panel prevents an area of the backpack from ripping itself. Therefore, you'll be able to avoid the risk of losing your tools just because of the tears at the bottom.
You can also search for tool backpacks that include metal-framed top flaps within the fabric. This feature will let the lid remain up and open. Therefore, you'll be able to locate and retrieve your tools with convenience.
Zippers
You should also check the zippers too and find out whether they're also sturdy or not. Backpacks that come with cheap zippers are prone to breaking. So, instead of these backpacks, you must spend your money on backpacks that are equipped with fasteners and zippers capable of withstanding time.
Storage Capacity
The last important aspect you must keep in deep consideration when you're buying a tool backpack is the storage capacity. If you choose a backpack that isn't able to store all of your necessary tools, then it's absolutely useless. So, you must make sure that you're not purchasing a backpack that is too small to store your belongings or too big to carry.
Care and Maintenance [Some Important Tips]
After you've bought yourself a perfect, high-quality tool backpack, you should never forget of giving it proper care and maintenance. It's essential that you provide it with extra care. Therefore, you'll be able to preserve its good and excellent condition for a long time.
First, you must clean it by getting rid of all of the accumulated dirt after you've used it for a certain period of time. After you're finished dusting all of the dirt, you must make sure that you're cleaning it thoroughly or in an air-depth manner. You can also preserve its condition if you use it in the right way.
Moreover, you can also maintain its condition if you've filled the bag based on its capacity. You must avoid going beyond the weight it can handle. As a result, you'll be able to prevent it from getting damaged too soon.
Furthermore, you should never forget to investigate it from time to time. If you inspect it on a daily basis, then you'll be able to notice any signs of damage. As soon as you notice any signs of damage, you must fix them right away. Therefore, you'll be able to keep them in the same condition they were at first for a long time.
People Also Ask About Electrician Backpack
What are the most popular tool backpack brands?
Klein Tools Tradesmen Backpack, Lenox Tools Storage Backpack, and DEWALT USB charging backpack are the most popular tool backpack brands.
How to choose the right size?
You can choose the right size of a tool backpack if you give deep consideration to your specific needs. First, you must determine the number of tools you want to store. Based on that, you'll be able to pick a size that can fit your needs.
Are tool backpacks waterproof?
Yes, tool backpacks are waterproof. There are some tool backpacks that are made from a rubber base which lets them resist water effectively. There are also backpacks made from heavy-duty nylon. Thanks to this material, these backpacks can resist water.
How to clean?
If you want to clean your backpack efficiently, then you should use warm soapy water for a mild wash. You must not use harsh detergents, alkaline or bleach to wash it as they can have lasting effects on the material of your backpack. You can remove stained surfaces by scrubbing it gently with a soft brush.
How to use?
If you want to make the most out of your backpack, then it's important that you're aware of how to use it appropriately. The best way you can use your backpack is to ensure that all the tools you need are well-organized and you're putting them in the right pockets.
Do give one of these a try and let us know your experience!