Best Golf Bags For Women In 2022
A golf bag is designed to primarily carry golf clubs, but it also has extra space for different belongings. Things like golfing accessories, personal items, and extra golf attire, to name a few.
Are Ladies Golf Bags Different Than Men's?
According to Golf.com, the length of women's golf clubs are generally shorter than men's which means women's golf bags can be smaller and shorter as well. Golf bags for ladies often come in different colors and designs that you don't normally see in men's.
Ladies golf bags can also be lighter and sometimes have more pockets to carry things like jewelry, golf accessories, and extra clothing like a jacket. The best golf bags for women have velour-lined pockets to keep your valuables safe.
There are many unisex golf bags available that would work well for any golfer.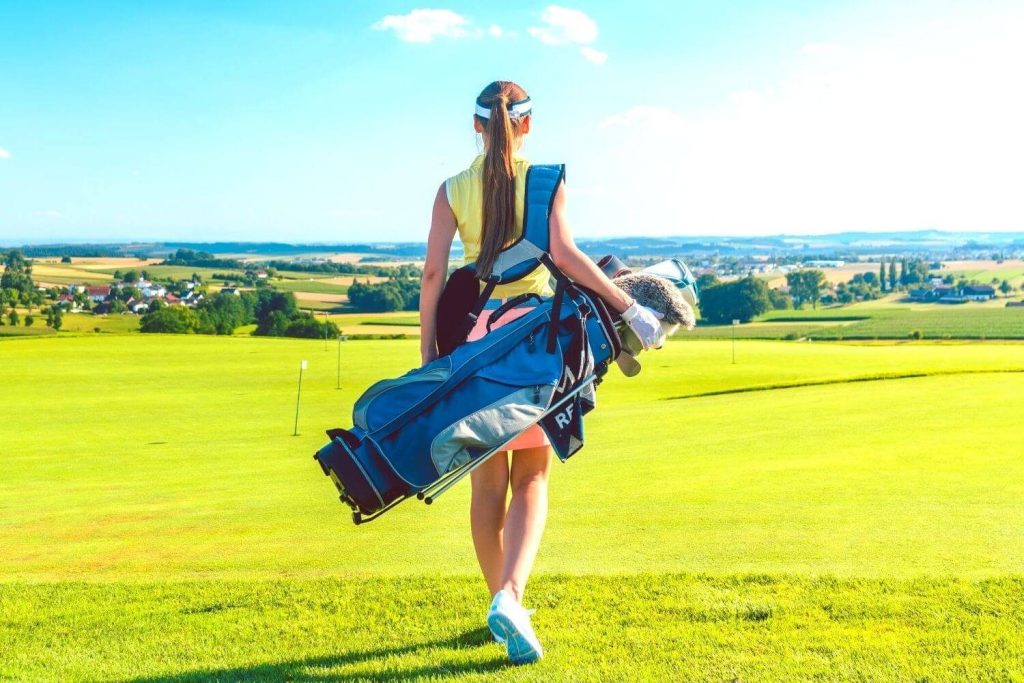 Different Types Of Golf Bags For Women
There are several styles of golf bags to suit different golfers' needs. Here are the five most popular categories of women's golf bags:
Tour Bags
Cart Bags
Stand Bags
Carry Bags
Travel Bags
Up next, read more details regarding each type of bag and see what our top recommendations are.
Best Golf Bags For Women: Our Top Picks For Each Category
Tour Bags
Tour bags (also known as staff bags) are the largest golf bags of all the different types. They get their name because tour professionals use them.
Tour bags are considered luxurious due to being made with high-quality materials and the amount of space you get to carry all of your essentials. This also makes them a heavier option, so if you are golfing by yourself, you might want to purchase a golf trolley to carry it on since they don't always fit in a golf cart.
TOP PICK: TAYLORMADE 2022 SEASON OPENER STAFF BAGS
With a variety of specially designed pockets for storage, TaylorMade's 2022 Tour Staff Bags include all of the classic golf bag features as well as Tour-caliber upgrades. These bags feature a premium design to align with the latest Carbonwood Technology. They are in and out of stock frequently since they sell out quickly.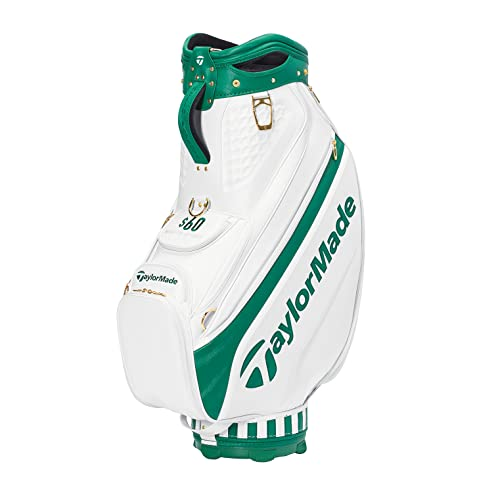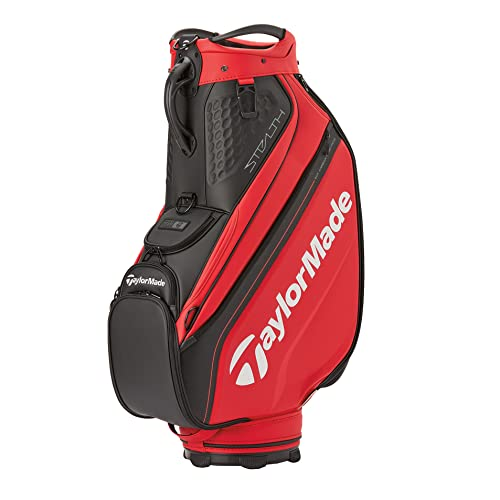 Golf Cart Bags
Golf cart bags are also known as trolley bags. They are designed specifically to be carried on a golf cart or trolley. Because of this, they have a rubber base so they don't slip off of the cart.
They might not be the best option if you plan on carrying your bag around the course. Although cart bags are smaller than tour bags, they still have some pockets for you to carry extra things.
TOP PICK: FOUNDERS CLUB PREMIUM CART BAG
This high-quality cart bag from Founders Club is made with lightweight construction. It has a large, reinforced, and sturdy base. The 14-way top organizer has a spot for each iron, wood, and putter. The number of pockets allows for ample storage of your gear and accessories.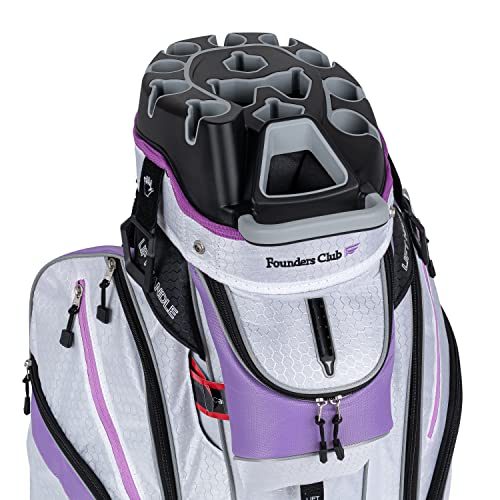 Stand Bags
Stand bags are unique because they have two retractable legs so the bag can stand upright. Most are medium in size and come with backpack-style shoulder straps which makes it easier and more comfortable to carry while walking between holes. This makes stand bags a popular option for golfers who prefer to carry their bags.
TOP PICK: TaylorMade 5.0 Stand Bag
This TaylorMade 5.0 stand bag is an Amazon's Choice product. It offers ample storage in a lightweight design. It provides a 5-way golf club top for your clubs with six pockets so you can store things like valuables, balls, and clothes. This bag is classy and designed for comfort.
Carry Bags
Carry bags (also known as Sunday bags) are designed for golfers who like to carry their bags but might not want the legs that come attached to a stand bag. A pencil bag is a type of carry bag that is a thinner and lightweight version of a stand bag. They have a slim design which makes them easy to carry and store.
TOP PICK: Big Teeth Sunday Golf Bag
This Sunday golf bag by Big Teeth is an Amazon's Choice product. It comes in a variety of colors and is customizable. It offers enough room to hold 7-10 clubs, 2 pockets for balls, tees, divot tools, and the like.
This bag is lightweight, waterproof, and durable. With its padded shoulder strap for extra comfort, it is easy and convenient to carry. When not in use, this bag can be folded for storage.
Travel Bags
Golf travel bags aren't used on the course. These are bags you would use to protect your golf equipment while traveling. They are like a suitcase for your golf bag.
There are hard or soft-sided golf travel cases available depending on your needs. Golf clubs are an expensive investment and you don't want them getting damaged in transit. Let's go over some pros and cons along with some tips.
Hard Case vs. Soft-Sided Travel Bags For Golf
Hard-sided cases offer more protection for your clubs and shafts overall. Your clubs are less likely to get damaged since the case is made of hard, durable plastic. This makes them more expensive so you'll want to decide what fits your needs best.
Hardcover Pros:
More golf club protection
Made of thick and durable plastic
Wheels for easy transport
Easy to lock
Interior padding
Good for traveling on a plane
Hardcover Cons:
Heavy
Usually more expensive than soft-sided cases
Harder to carry
Difficult to store and to fit in certain places like a small trunk
TOP PICK: Samsonite Hardside Golf Travel Case
This hard-sided travel case by Samsonite is an Amazon's Choice product. It features a durable, solid ABS shell that shields your golf bag and clubs from the wear and tear of air travel. Measuring 54″ L x 12″ H x 16″ W, this travel case can accommodate larger 10.5″ top golf bags with longer, 48″ clubs.
It has a padded quilted interior with extra foam cushioning on top to protect club heads and the internal compression straps secure the golf bag. Travel will be easy with the 4 multi-directional spinner wheels and 2 in-line skate wheels, which allow the case to be pushed or pulled.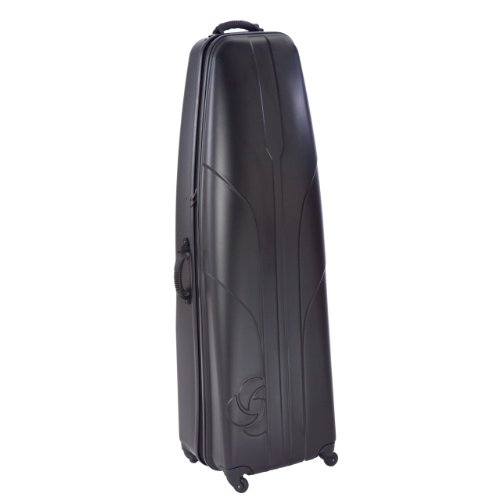 Soft-sided travel bags offer a decent amount of protection if you're not going to have an airport baggage handler throwing your luggage around. These cases are flexible and can be bent which puts your clubs at more of a risk of being damaged.
Soft-Sided Cover Pros:
Lightweight design
Cheaper than hardcover cases
Generally easier to carry
External pockets for storage
Made with durable fabric
Great for road trips
Soft-Sided Cons:
Equipment not as well protected as with a hardcover bag
Not as good if flying on an airplane since clubs can get broken or crushed by other luggage
Less padding than hardcover cases
TOP PICK: OutdoorMaster Padded Golf Club Travel Bag with Wheels
This travel bag by OutdoorMaster is an Amazon bestseller. The unique OTS system covers the entire golf travel case while offering a 2x thickened cushion layer and 900D oxford wear resistance and waterproof material.
It offers an optimized in-line skate wheel and premium rubber base with a shoulder strap, multiple handles, and a separated bag for golf shoes.
Featuring a 54″ length design to carry your full set golf clubs and bag. Foldable for easy storage and has a U-shape wide open zipper system to open & close easily.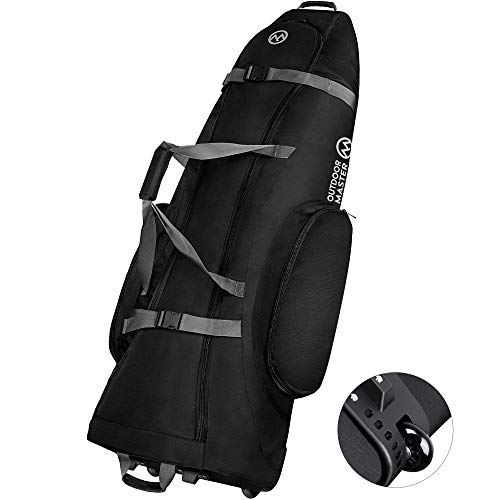 Travel Bag Tips
Make sure to check the dimensions before purchasing since golf travel bags come in different sizes
Remove your driver/wood clubheads and store them in a carry-on for added protection
Consider purchasing a golf travel bag support system for added protection (see below)
Fill extra space with clothes and golf towels
Check for a warranty before purchasing the right travel bag